00:00 - [CL] ONLINE DAY
This is an event every Sunday from 00:00z to 24:00z, in which you can control in the position you prefer, and fly in the aircraft of your choice.
For more information click here.
00:00 - [PE] Online Day
Hey!
Let's fly in our Online Day.
For more information click here.
05:00 - [CO] RFE SKRG 2020
The IVAO COLOMBIA division invites you to participate in the event RFE SKRG 2020 (05Z to 23z). A great event, which consists of simulating the real operations of the José María Córdova Intl airport, located in Antioquia, while enjoying a day full of trained ATC control, will be an exciting afternoon day for all those passionate about aviation!
For more information click here.
11:00 - [GE] Georgia Online Day
Every Sunday: Georgia Online Day from 1100utc - 1700utc (1500 - 2100 LT)
For more information click here.
13:00 - [XN] WEEKLY NORTHERN LIGHTS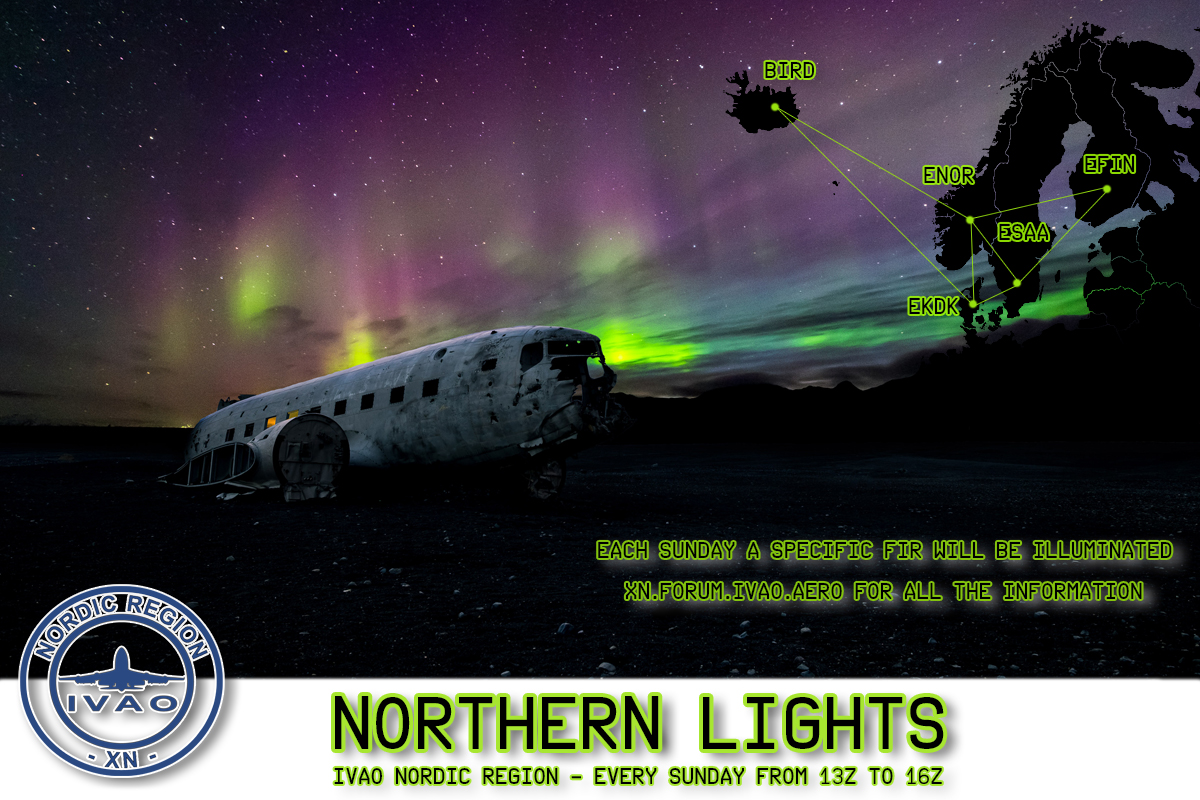 Nordic Region is proud to officially re-introduce the weekly tour called "Northern Lights" . This revisited day/tours aims to bring life to our online day by bringing the best of all parts of IVAO. A tour for pilots to fly, aircrafts for ATC to control and a badge for everyone to hunt. In this way we encourage people to control and fly at the same area at the same time and hopefully this could bring even more people to join us. It will always be on Sundays from 13z to 16z. The award will be given to anyone who participates at 25 online days as Pilot or ATC. Reference post (both for ATCs and Pilots) will be published one week in advance indicating the FIR of our division which will be illuminated!
For more information click here.
13:00 - [IT+HQ] IVAO Italia 20th Anniversary Event
Sunday 1st of November from 13z to 21z ( 14-22 local ) the 20th Anniversary of the Italian Division will take place!

20 years!

20 years have passed since the italian division in one of the top 5 active divisions on IVAO. It is a very important anniversary. We have been always present on the network and this 20th birthday deserves a special event.
1st of November: we have been working hard to set up something unique in the whole IVAO Italy's history. An event that celebrates the integrity of the majority of us, something that reflects the story of our beloved division.
8 hours non stop event, the whole italian airspace covered. 2 different tours; 1 VFR, 1 IFR, one airbridge connecting our most populated TMAs, 6 Special Operations missions including HEMS, Fire Fighting, VIP, Cargo, Fighter and Tanker.
But the most important part is yet to come..
All of our VAs will be flying around!

The IVAO HQ award will be issued to anyone present during this special occasion which will leave a great memory on your IVAO profiles.

It will be a sensational event, hope to see you all there!
For more information click here.
15:00 - [ES] ALICANTE - MALAGA Vintage Flight
We remember the first authorized commercial flight in Spain. Use your vintage plane and fly this event differently.
For more information click here.
15:00 - [CH] Swiss Sunday
After the typical hourlong family dinner, the pile of homework, or the hours of doing nothing, come fill up the Swiss skies! A blast of fresh air before diving back into the week.

Bring over your wings to Switzerland and meet our beautiful airports. Come on to do some IFR between our main airports or take your VFR certified plane out of your hangar!
For more information click here.
16:00 - [AO] Angola Online Day
Every Sunday IVAO Angola is having its weekly Online day. The goal of this day is to attract as much traffic as possible to one or more focus airports situated in Angola, in order to give the participating pilots and controllers the possibility to explore the different commercial airports in the nearby. We look forward to seeing you there!

To obtain the Angola Online day badge you must participate in 25 sessions of control and Pilot during the Event.
For more information click here.