00:00 - CL Online Evening
Come and fly at Chilean Airspace, all sundays. Between 2000 - 23000z
For more information click here.
10:00 - [XB+HQ] Brussels RFE 2021
IVAO BeLux Region and Brussels Flight Simulators are inviting you to the yearly Brussels Real Flight Event!
Unfortunately due to COVID the real life part of the PDE is being replaced by different online activities.

During 10 hours we will simulate a real flight schedule in order to give you an idea of what a typical Sunday on the international airport in the capital of Europe looks like.
Of course due to COVID, the amount of scheduled flights is much lower but you will be able to do a slot request to challenge our controllers with your own custom flight!


If you want to participate, please visit the dedicated event page to find out everything you need to know!
For more information click here.
11:00 - [ES] Seven Million Hour
IVAO SPAIN IS IN CELEBRATION

We celebrate our users' 7 million online hours with a military flight event to put the military controllers at Moron Air Base to the limit.

Moron Air Base is a joint base of the USAF, USMC and Spanish Air Force. It's the home of 11st Wing, being one of the combat wings of the Air Force with Typhoon aircraft.

Therefore, we await your arrival at Moron AFB on May 2 between 1100z and 1400z.

You can fly from your preferred base, take a local flight through the Andalusia area or carry out training taking advantage of the coverage of military positions.

For more information click here.
13:00 - [XN] NORTHERN LIGHTS - ONLINE DAY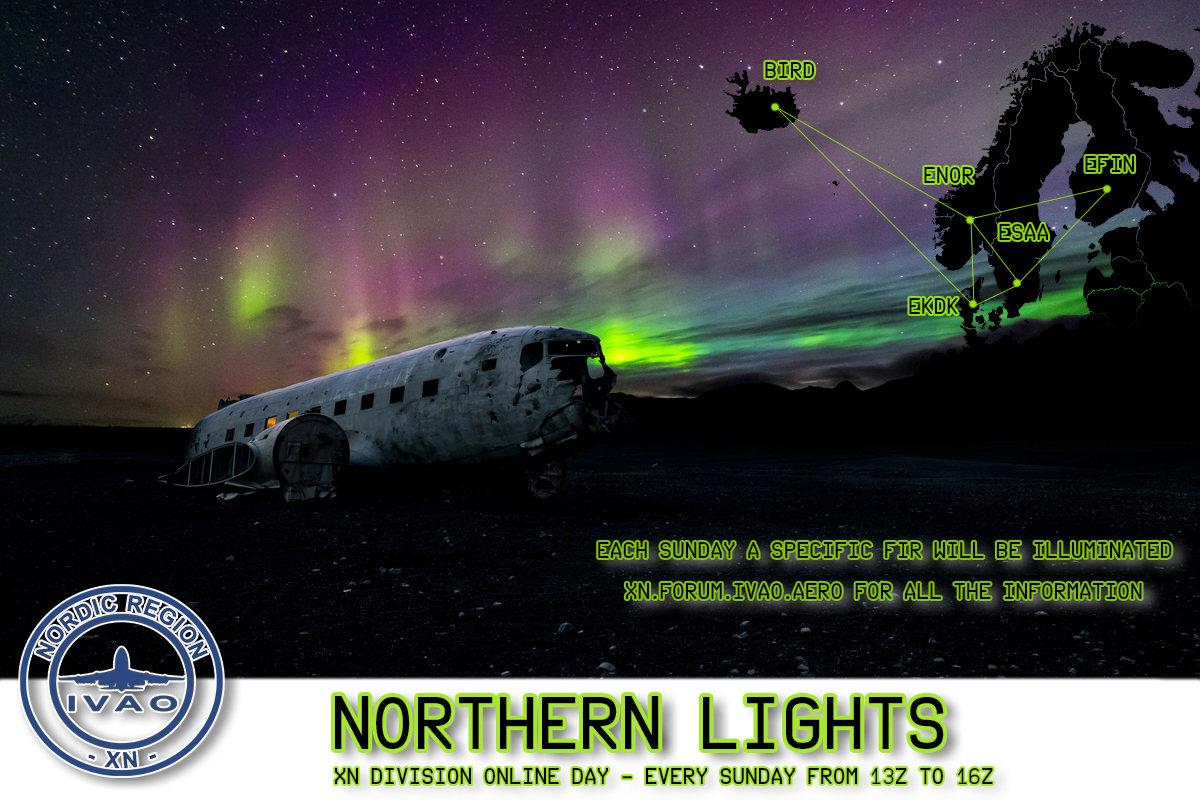 Nordic Region is proud to officially re-introduce the "Northern Lights" (Online Day). This revisited day/tours aims to bring life to our online day by bringing the best of all parts of IVAO. A tour for pilots to fly, aircrafts for ATC to control and a badge for everyone to hunt. In this way we encourage people to control and fly at the same area at the same time and hopefully this could bring even more people to join us. It will always be on Sundays from 13z to 16z. The award will be given to anyone who participates at 25 online days as Pilot or ATC. Reference post (both for ATCs and Pilots) will be published one week in advance indicating the FIR of our division which will be illuminated!
For more information click here.
14:00 - [CH] Swiss Sunday
After the typical hourlong family dinner, the pile of homework, or the hours of doing nothing, come fill up the Swiss skies! A blast of fresh air before diving back into the week.

Bring over your wings to Switzerland and meet our beautiful airports. Come on to do some IFR between our main airports or take your VFR certified plane out of your hangar!
For more information click here.
14:00 - [DE + GR] Munich - Corfu Airbridge
IVAO Hellas and IVAO Deutschland invite you on Sunday, May 2, 2021, 14:00 UTC - 19:00 UTC, to participate as a pilot, on our Bothway Airbridge Event from Munich International Airport to Corfu "Ioannis Kapodistrias" International Airport. Fly your wings with a Full ATC coverage!

We look forward to your participation!
For more information click here.
16:00 - [XU] City Connect - Manchester - Dublin
IVAO XU are pleased to bring our second event in the City Connect series. This time it's based in the XU division. Manchester and Dublin is a popular route for Ryanair and Aer Lingus. Come and join us on Sunday 02nd May 2021 from 16z - 20z as we provide FULL ATC between the two airports. You will be able to fly both legs and enjoy the ATC coverage.
For more information click here.
17:00 - [XC+XA+HQ] ALM980 Memorial Flight
Come and fly from KFJK to TNCM as a memorial flight remembering the tragedy of Antillean Airlines (ALM) flight 980, which had to make a forced ditching in the Caribbean Sea on May 2, 1970.
For more information click here.
20:00 - [CO] VFR CARIBEÑO
La división de IVAO COLOMBIA los invita a participar en el evento VFR CARIBEÑO. Un gran evento, el cual consiste en disfrutar los paisajes que nos ofrece la región Caribe colombiana, pero esta vez realizando un vuelo VFR en aeronaves de categoría liviana, será una tarde divertida y emociónate para todos aquellos ¡apasionados por la aviación!
For more information click here.