16:00 - [XU+ES+IT+HQ] Champions League Final
The divisions of the United Kingdom, Spain and Italy with the collaboration of HQ, are proud to present a new wonderful event.
The final of the UEFA Champions League this year will take place in Cardiff, EGFF, on June 3 2017. Crowds of fans are preparing for another grand final, which will involve the Real Madrid and Juventus teams.
The event will be held the day before June 2nd 2017 between 16z - 19z, starting from Adolfo Suarez Madrid-Barajas Airport, LEMD and Turin Caselle, LIMF to bring all the team supporters to the European soccer final.
Moreover, the ATC Team of Madrid will give you an effective control in the Madrid area while the Italians will wait you in the Alps for a scenic departure.
Don't believe us? Come to the event and you will find out !.
What are you waiting for?
For more information click here.
16:00 - [SN] Dakar - Praia Airbridge
Join the Senegalese division for an aibridge from Dakar to Praia.
For more information click here.
19:00 - [DZ] Algerian Online Day

RUSH HOUR IN ALGERIAN SKY.

IVAO Algerian Division presents an Online Day every Friday at 1900z.
Great coverage of ATC with great service.


DZ Division wish you good flight !


All charts are available at: Algeria Charts

Come and fly in Algeria !
For more information click here.
20:00 - [PT] AFTERWORK SESSION
It´s friday, and behind, there was a week of hard work and stress.
Since friday is the launchpad for the weekend, and taking the oportunity to socialize, IVAO PT's event department brings you the AFTERWORK SESSIONS

We count on you. We will encourage group flights and try to reach traffic records, let's have fun, maintaining a professional conduct.

Here's a link to a poll to figure out what this week's aerial bridge will be:
http://bit.ly/IVAOPTFORM
For more information click here.
21:00 - [XO] Capital Connect - YBBN Brisbane/YSCB Canberra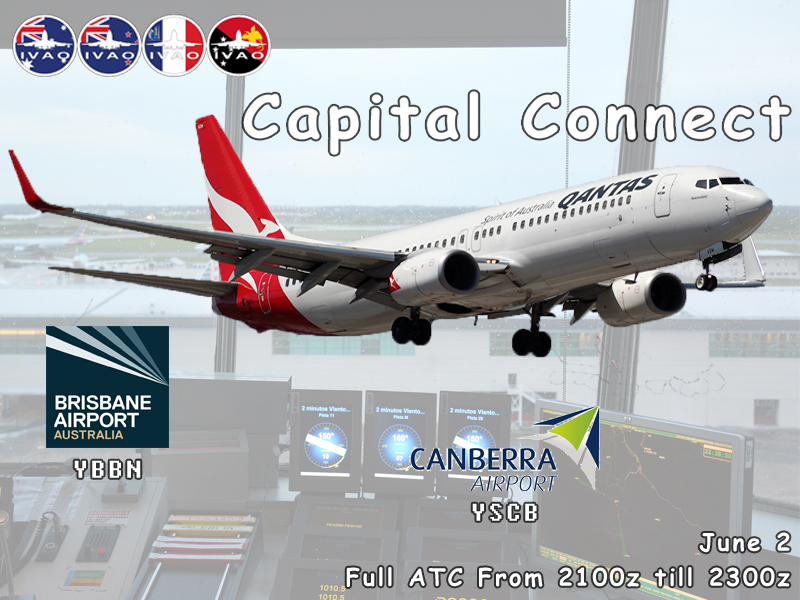 Welcome to Captial Connect!

For this event, two capital City's of Australia will be lit up with ATC services for two whole hours guaranteed for full service between YBBN Brisbane and YSCB Canberra.

Pilot's have a choice in this event, you can either depart YBBN Brisbane and fly to YSCB Canberra or depart YSCB Canberra and fly to YBBN Brisbane.

This is a great opportunity to fly downunder under the guidance of our local Controllers. With 2 hours of guaranteed ATC coverage and an approx 1hr flying time, Pilots will have plenty of time to complete a full flight with ATC coverage.

Participating Pilots will receive 1 Point for the Pilot Event award and ATC will receive 1 Point for the ATC event award once logged through MoDA
For more information click here.