00:01 - [CL] CHILE ONLINE DAY
Chile Online Day takes place every Sunday from 00:01z. Come and join us, full ATC coverage service and a escalated rate of pilots in the skies.

We hope see you there.

For more information click here.
09:00 - [DE] Airportfestival Nuremberg (PDE) + Nuremberg Ops
IVAO @ Airportfestival Nuremberg (EDDN)

IVAO and Nuremberg airport kindly invite you to the Public Demonstration Event "Flughafenfest Nürnberg 2019" on 2nd June 2019 between 09z and 15z. Next to different exhibitors, performances and attractions, you will find IVAO on a 100qm large display area. But we do not celebrate the airportfestival in real life only. We also kindly invite you to the Nuremberg Ops event. You will have the chance to book your flights and to be part at the airportfestival too. You will find our booking system within the Divisioncenter starting on 15th May 2019, 14:00z. If you do not find any flight, feel free to plan a individual one and fly from or to Nuremberg to support the PDE.
For more information click here.
13:00 - [PT] Lisboa RFE 2019
The Lisbon RFE consists of a day where all real operations in Lisbon are simulated on the IVAO network. Besides that, the pilot may also expect a full ATC coverage in the LPPC (LISBON) FIR.

For more information click here.
14:00 - [TN] Tunisia Online Day
Every Sunday IVAO Tunisia is having its weekly Online day
Time : 1400z - 1800z
For more information click here.
15:00 - [UA+XR+HQ] Russia-Ukraine-Moldova Relay Event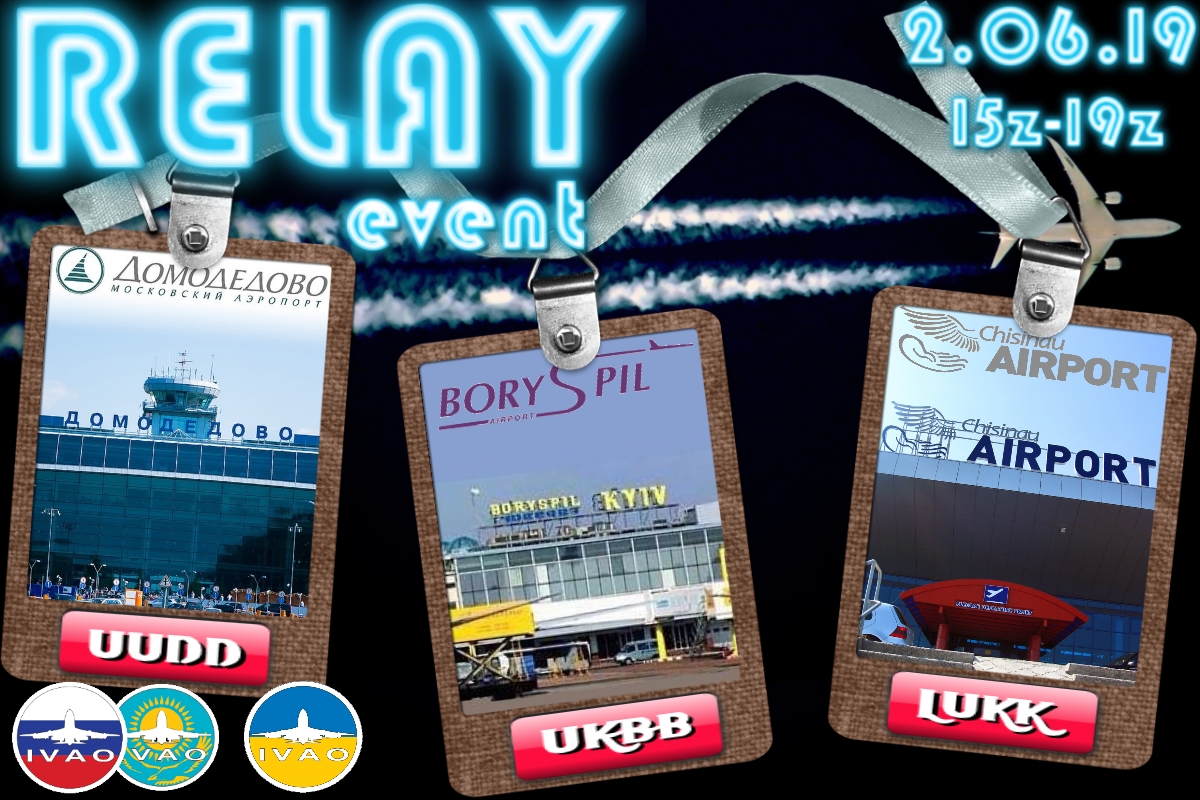 Dear Pilots and ATC
Russian Federation and Kazakhstan together with Ukraine division are happy to present something unusual and unique - Relay event!
3 countries, 3 airports, 2 airbridges and lots of fun!
Everyone should start in Moscow with a flight to Kyiv. And after a short stop there - to depart to the final destination - Chisinau.
For more information click here.
16:00 - [CH] Swiss Sunday
Dear Pilots and Controllers,

After the typical hourlong family dinner, the pile of homework or the hours of doing nothing, come fill up the swiss skies! A blast of fresh air before diving back into the week.

Bring over your wings to Switzerland and meet our beautiful airports. Come on to do some IFR between our main airports or take your VFR certified plane out of your hangar!


For more information click here.
17:00 - [AN] Caribbean Online SUNDay
Come and fly with us in the Caribbean Sky
For more information click here.
18:00 - [HR] Croatia Online Evening
Croatia Online Evening is organised every Sunday from 18:00z. Come and join us, expect extended ATC service and enjoy the magnificent scenery of our country.

We're looking forward to seeing you!
For more information click here.