05:00 - [XO] Oceanic Region - Sunday Online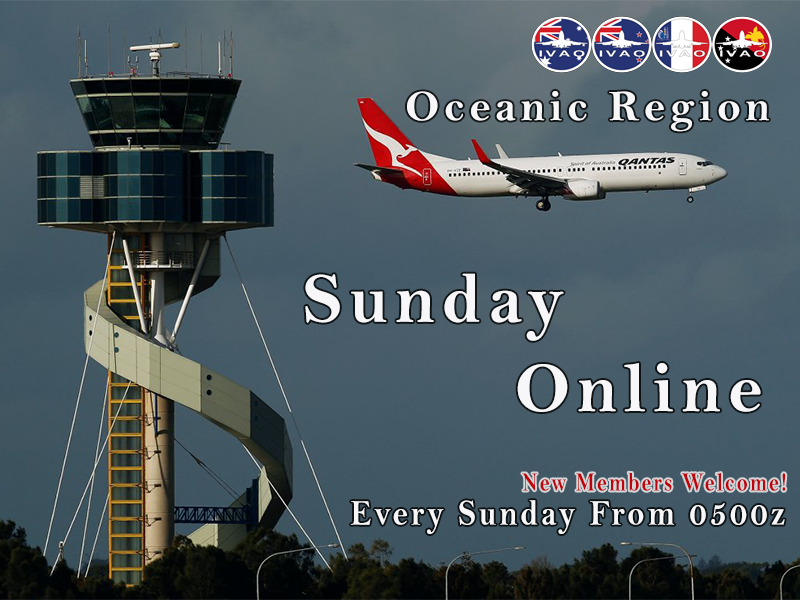 Welcome to IVAO Oceanic Region Sunday Online!

Our weekly Sunday afternoon flight which takes place in its traditional kick off time of 0500z. Each week will see a different point to point flight giving current and NEW Members the chance to fly together along with experiencing some ATC in the Oceanic Region to go with it.
For more information click here.
17:00 - [XN] Nordic Region Online Day
Each Sunday the Nordic Region will provide the possibility to have ATC coverage for a stunning area from Helsinki to Reykjavik, from the North Cape to Copenhagen. Bring your wings and enjoy this great ATC coverage.
For more information click here.
18:00 - [XA] Great Lakes AirBridge: Chicago <-> Toronto
Summer is approaching... IVAO North America Region is proud to present its new event to celebrate the end of spring.
We suggest you a flight in a refreshing landscape : The Great Lakes of North America. This area, located on the Canada-United States border, includes five main lakes : Erie, Huron, Michigan, Ontario and Superior.
On June 11th between 18z to 22z, just like the daily thousands of people flying above this region, we invite you to cross this amazing landscape through an airbridge between Toronto and Chicago International Airports. Pick your favorite aircraft and join the adventure ! ;)
For more information click here.
18:00 - [HR] Croatia Online Evening
Croatia Online Evening is organised every Sunday from 18:00z. Come and join us, expect extended ATC service and enjoy the magnificent scenery of our country.

We're looking forward to seeing you!
For more information click here.
19:00 - [CL] Chile Online Day
Se trata de un evento todos los Domingos desde las 19:00z, en el cual puedes controlar en la posición que prefieras, y volar en la aeronave que prefieras.
For more information click here.