14:00 - [HQ+XR] The 10th annual The Malachite Casket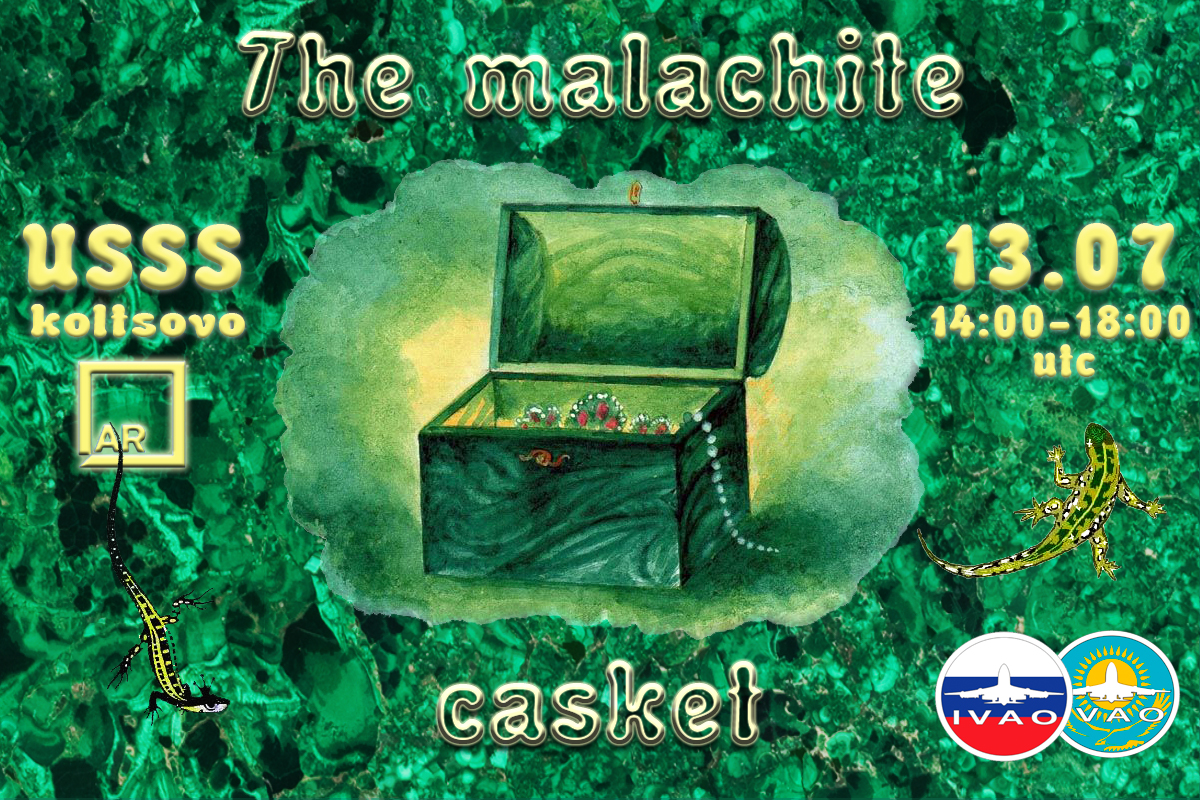 Dear friends!

We are glad to announce the 10th anniversary annual The Malachite Casket Event.
The Malachite Casket" is a folktale (the so-called "skaz") of the Ural region collected and reworked by Pavel Bazhov. Every year since 2010 we meet in the Ekaterinburg to wonder how beautiful and fairy this part of Russia is. We hope that you will share the moment with us and help us make the Ural skies crowded. We develop the "as real as it gets" concept further and further: this time automatic ATIS frequencies (more information in the briefing) and small, fast, and yellow surprise on the ground. Also, to make this event outstanding all neighboring FIRs will be covered with ATC, so choice of the departure point is yours! We all meet in USSS on 13th of July!
Hope to see you there!!
For more information click here.
16:00 - [MA] Morocco Online Day
You are welcome every saturdays, at the most important Morocco airports, like Casablanca, Marakesh, Fes, etc.
Make sure your flight is arriving or departing from Morocco.

To obtain the Morocco Online day badge you must participate in 10 sessions of control during our Romania Online Evening.

[img]https://www.ivao.aero/data/images/awardsdiv/OD.gif[/img]

Members out of Morocco division must have the GCA.

Fun are guaranteed.
For more information click here.
17:00 - [DE] Cargo Event EDDP
Packeges, food, flowers or even... Animals?
You can let all those things fly around the world with Aerologic, DHL or UPS out of or to Leipzig/Halle (EDDP) - preferred on 13th of July 2019 between 17z and 20z. Within this period the Cargo Event occurs around the Saxony airport, where you can enjoy full ATC at the second largest cargo airport in Germany.
For more information click here.
18:00 - [UY] MONTEVIDEO RFE
We are pleased to invite you to our first RFE, an event that simulates the real operations of Carrasco International Airport and Angel S. Adami International Airport. Bring your wings and help us to do a great event!!!

Now we have the support of IVAO HQ, IVAO Peru, IVAO Colombia, IVAO Chile and IVAO Brasil

BOOK YOUR FLIGHT: https://rfe2019.uy.ivao.aero/
For more information click here.
19:00 - [CO] CARIBBEAN ONLINE DAY
IVAO COLOMBIA, VENENZUELA, DOMINICAN REPUBLIC and Netherlands Antilles Invites you to participate in the evenet ONLINE DAY.An event in which you can enjoy flying or controlled in a afternoon with the majority of dependencies of our four divisions, achieving a higher level of immersion in the operations that are carried out in real life.
For more information click here.