00:00 - Turkey Online Day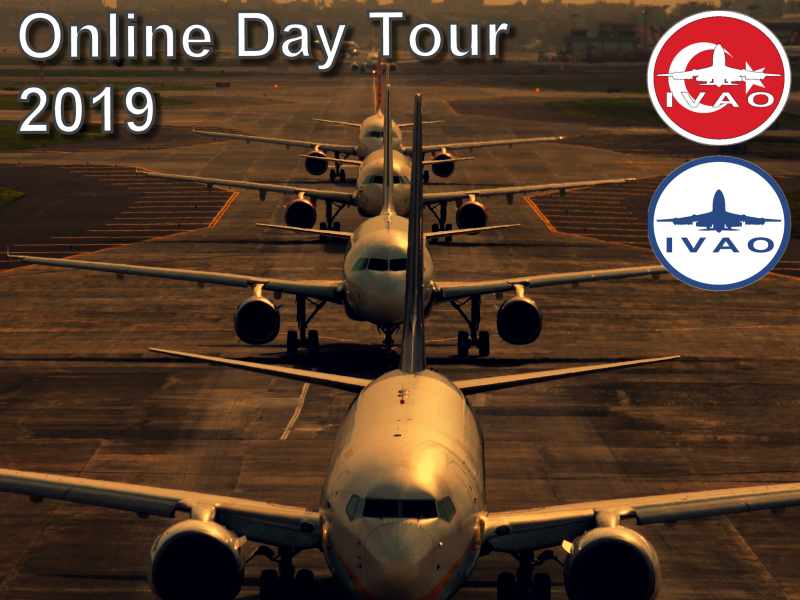 As IVAO TR Division, we are waiting for our biggest online day event every Monday
For more information click here.
00:00 - [PL] Poland Online Evening
Enjoy ATC staffed Polish skies
For more information click here.
17:00 - [RO] Romania Online Day
IVAO Romania invites you to participate to "Romania Online Day" every Tuesday between 17:00 and 20:00 UTC.


To obtain the Romania Online Day ATC badge you must control in 25 sessions during the online day.
Members outside of the RO division must have GCA.
Each control session will be reported in the MODA System under the ODATC18 Tour.
For more information click here.
17:00 - [UA] UKRAINE ONLINE EVENING
IVAO Ukraine is pleased to invite you to Online Evenings in Ukraine! We're waiting for all of you every Tuesday from 17:00z in Ukrainian airspace! And stay tuned for further updates as we have many interesting things to come!
For charts and sceneries refer to our website: http://en.ivao-ua.com/
For more information click here.
17:00 - [HQ+RELAY+SK+PL] Santa's Urgent Delivery
Dear pilots, listen up! Christmas is right behind the door and the last presents are being delivered around the globe. There is one small problem though! Santa leaves for his tour around the world and he needs a help from you to deliver the presents around Slovakia! Therefore, he decided, that he will leave the presents in the port of Gdansk. You will pick the presents from the Gdansk airport and head to Bratislava to deliver the first batch of presents. Yes, just the first batch. The other half of the presents still needs to be delivered to the other side of the country - Košice.

You as the pilots will split into teams of two, where the first pilot will fly from Gdansk to Bratislava. Right after the first pilot lands in Bratislava, second pilot can take-off from Bratislava and head to Košice to finish this relay.

As Santa is too good, he decided to give a prize of 4 products to two randomly chosen teams. One team = two pilots, one product for each pilot. That means, that just a week before Christmas, 4 of you will be leaving this event with even a better mood after receiving the prize from our event sponsor - Drzewiecki Design.
For more information click here.
18:00 - [SI] SLOVENIA ONLINE EVENING
IVAO Slovenia Online Evening every Tuesday from 1800z till 2100z.
For more information click here.
18:00 - [CZ] Czech Online Day
Fly to fully controlled Prague FIR! Charts can be found on link below.
For more information click here.
18:00 - [XB] BeLux Online Evening
Every Tuesday BeLux Region is having its weekly Online Evening. The goal of this evening is to attract as much traffic as possible to one or more focus airports situated in Belgium and Luxembourg. These focus airports will vary from time to time in order to give the participating pilots and controllers the possibility to explore the different commercial airports in the vicinity. Make sure to check the page below before participating to the Online Evening to see where the traffic activity will be going on. We look forward to seeing you there!
For more information click here.
18:00 - [DE] German Onlineday
German Onlineday
For more information click here.