00:00 - [HQ+XO] PDE: Sydney RFE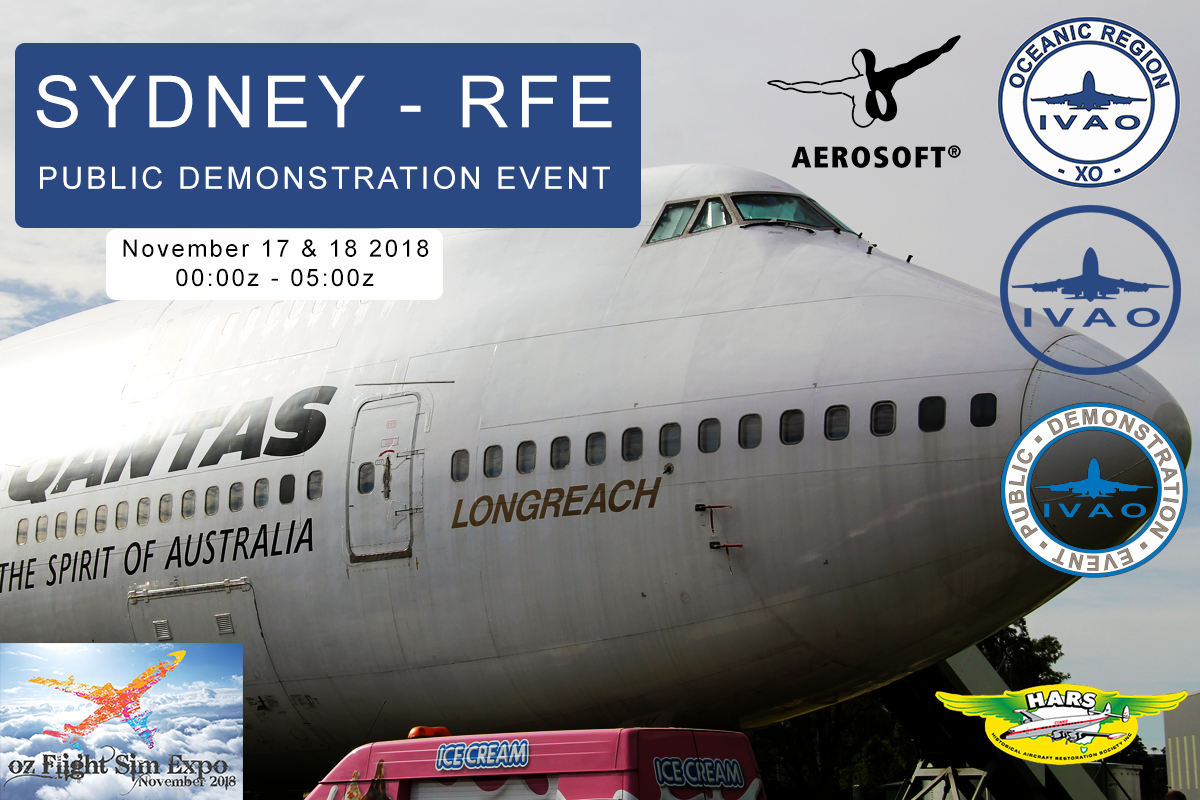 The Oceanic Region would like to invite all Pilots Down under for our Public Demonstration Event, Sydney RFE. For two massive days the Oceanic Region is exhibiting at the Oz Flight Sim Expo 2018, taking place at the HARS Aviation Museum at Illawarra Regional Airport on November 17 & 18 2018 just a 90 minute drive south of Sydney. The Staff of the Oceanic Region will be demonstrating IVAO to the Public by hosting an RFE event at Sydney.

From 00:00z till 05:00z on both November 17 & 18 Sydney and the surrounding airspace will be staffed with the full flight schedules of Sydney in operation for Pilots to book and fly. We also invite Virtual Airlines, Cargo ops, and general aviation to utilise the Privte slots available to participate in the event as well.

Pilots can book their flights at the official RFE Sydney website. NOTE: The booking system is showing 1 days worth of schedules, if you book a flight you can fly it on either day or both. This is due to the limitations of the system.

We invite you to join us down under!
The whole event will be on 17 & 18 November 2018, from 00:00z to 05:00z.
For more information click here.
17:00 - [CH] Swiss Sunday
Dear Pilots and Controllers,

It's Sunday!

After the typical hourlong family dinner, the pile of homework or the hours of doing nothing, come fill up the swiss skies! A blast of fresh air before diving back into the week.

Bring over your wings to Switzerland and meet our beautiful airports. Come on to do some IFR between our main airports or take your VFR certified plane out of your hangar!

For any flight, or ATC position, report your leg to win the ONLINE DAY AWARD !
For more information click here.
18:00 - [XN] Nordic Region Online Evening
Each week the Nordic Region will provide the possibility to have ATC coverage for a stunning area
from Helsinki to Reykjavik, from the North Cape to Copenhagen.

Bring your wings and enjoy this great ATC coverage.
For more information click here.
18:00 - [HQ+FR+XU] IVAO 20th Anniversary Airbridge: LFPG <> EGLL
Dear fellow IVAO members,
20 years have passed since IVAO was founded! ALL DIVISIONS are celebrating this using a series of air-bridge events.
We are delighted to invite you to our division's participation to this series:
For more information click here.
19:00 - [CL] Chile Online Day
Chile Online Day takes place every Sunday from 19:00z. Come and join us, full ATC coverage service and a escalated rate of pilots in the skies.

We hope see you there.

For more information click here.
19:00 - [HR] Croatia Online Evening
Croatia Online Evening is organised every Sunday from 18:00z. Come and join us, expect extended ATC service and enjoy the magnificent scenery of our country.

We're looking forward to seeing you!
For more information click here.