00:00 - [XR] Russian Federation and Kazakhstan Online Day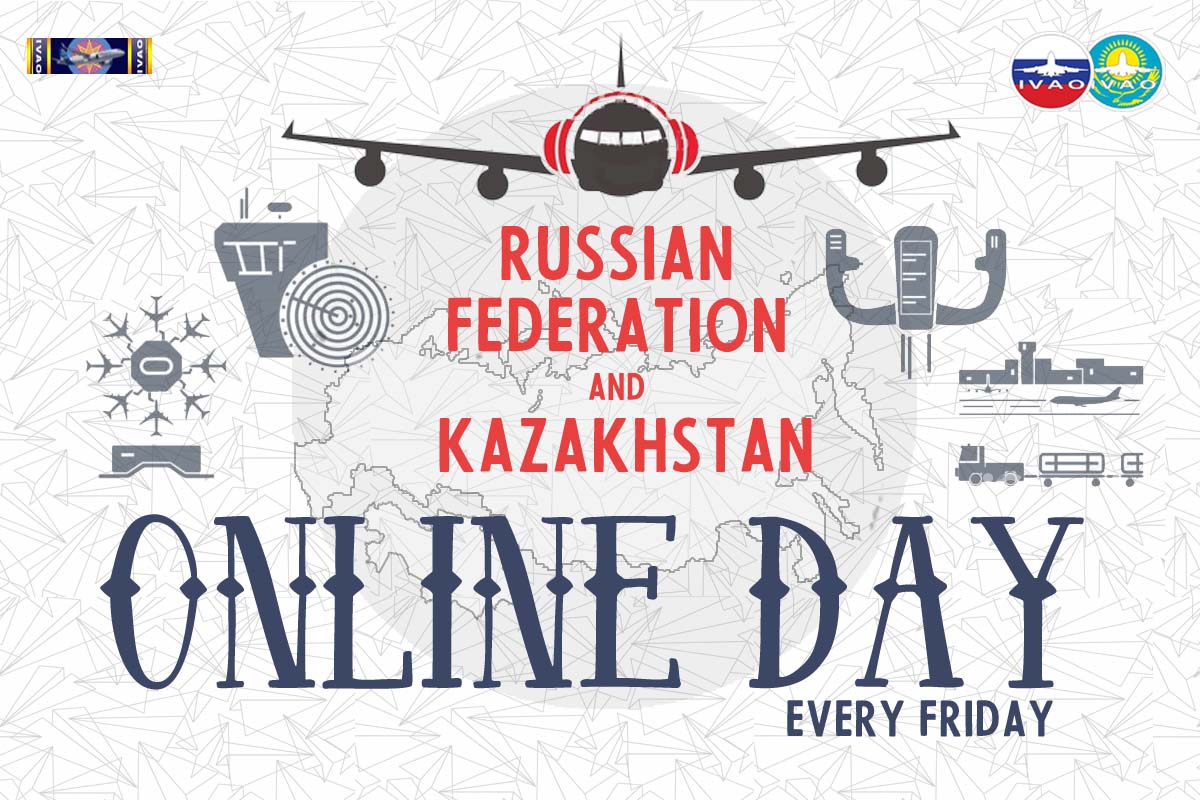 We want to welcome everyone to join us every Friday to enjoy plenty of ATC service and mini-events in the Russian Federation and Kazakstan skies.
We are extremely happy to announce that Online Day Tour is open.
See you there.
For more information click here.
00:00 - [HQ,SA] Riyadh RFE
King Khalid International Airport (IATA: RUH, ICAO: OERK) is located 35 kilometres (22 mi) north of Riyadh, Capital city of Saudi Arabia. This airport consists of five passenger terminals (two closed for renovations and new development), a mosque, covered and uncovered car parking for 11,600 vehicles, an additional Royal Terminal (for the kingdom's guests, government heads, and Saudi royal family use), a central control tower (one of the world's tallest), and two parallel runways, which are each 4,260 metres (13,980 ft) long. The land area allocated for this airport is among the largest in the world.

IVAO HQ Event and Saudi Arabia Division are inviting you to participate in the Riyadh RFE 2019 that simulates real flights departing and arriving the King Khalid Int'l. Airport (OERK). Flights are available for booking and you can choose the flight you like either departure or arrival flight.

For more information click here.
12:00 - [ID] Friday Online Day
IVAO INDONESIA proudly present our ONLINE DAY every Friday at 12.00z - 16.00z, All members allowed to online as ATC or Pilots. Also after reaching 24 points, you will recive "DIVISIONAL ONLINE DAY AWARD".

For more information click here.
13:00 - [TH] Thailand Online Day
Thailand Online Day every Friday between 1300z - 1600z. ATCs and PILOTs will receive Division Online Day Award after reaching 25 points.


For more information click here.
14:00 - [XG] GCC Region Online Day
The GCC Region Division welcomes you to its online day every Friday!
19:00 - [DZ]ALGERIA ONLINE DAY
You are welcome every Friday, at the most important Algeria airports, like Algiers, Oran, Constantine, etc.
Make sure your flight is arriving or departing from Algeria (DAAA FIR).

To obtain the Algerian Online day badge you must participate in 25 sessions of control during our Flight.
For more information click here.
20:00 - [PT] PORTUGAL ONLINE DAY
We are pleased to invite you to join us at fridays, to participate in the Portuguese Division Online Days, where you can flight with the FULL ATC.
For more information click here.