00:00 - [ES] ONLINE DAY
SPANISH ONLINE DAY
For more information click here.
00:00 - [XR] Russian Federation and Kazakhstan Online Day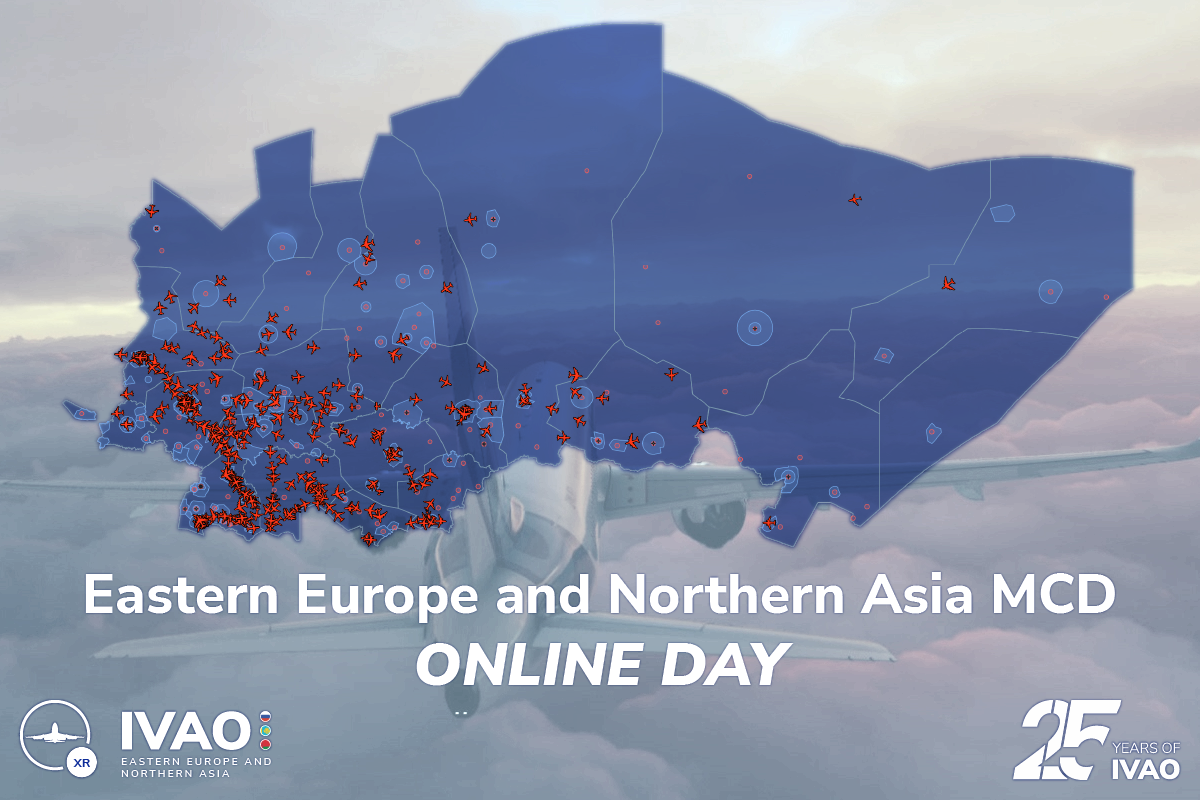 We want to welcome everyone to join us every Friday to enjoy plenty of ATC service and mini-events in the Russian Federation and Kazakstan skies.
We are extremely happy to announce that the Online Day Tour is open.
See you there.
For more information click here.
12:00 - [ID] Friday Online Day
IVAO INDONESIA proudly present our ONLINE DAY every Friday at 12.00z - 16.00z, All members allowed to online as ATC or Pilots. Also after reaching 24 points, you will recive "DIVISIONAL ONLINE DAY AWARD".

For more information click here.
13:00 - [XE] East Asia Online Day
During the 3 hours period, we encourage all members to participate, as a pilot or ATC in our division coverage. This includes 6 FIRs in the region - Hong Kong, Taipei, Incheon, Manila, Hanoi and Ho Chi Minh ACC. We hope to boost the number of connections in the timeframe and light up our region.
For more information click here.
13:00 - [TH] Thailand Online Day
* Every Friday 1300Z - 1600Z

* Pilot and ATC can participate this event and must online at least 1 hour per day and fly IN/OUT from Bangkok FIR.

* Only 1 leg per day will be accepted.

* Completed flights must be reported within 7 days after the flight.

* All legs must be flown online, using real weather, in real-time mode (1x sim rate).

* Pay attention to your flight plan. Legs with wrong departure and/or arrival airport will be rejected.

* Flights with DCT and/or DCT/GPS or VFR DCT as Flight Plan will NOT be accepted.

* Your flight plan must include at least one real alternate arrival airport. ZZZZ as an alternate will NOT be accepted.

* Aircraft must be stationary while online for a minimum of 6 minutes before departure and after arrival

* Members not communicating via UNICOM (122.80) can be excluded from the tour.

* Speed restriction : Below 10,000' Max 250 KIAS

* Maximum speed is M0.85

* Max Altitude is 43,000 ft.

* Remember to report legs in UTC time.

* A maximum disconnection of 20 minutes will be accepted

* Filed report not compliance with above rules will result in rejection.

* IMPORTANT : Remember you must check regularly you're connected to IVAN, to avoid problems later cause flight was done disconnected.

* Download scenery at http://www.ivaothai.com/page_id=448

Pilots and ATC online for 10 times will receive the "Division Online Day Award"
For more information click here.
15:00 - [XG+SA+IN] Oman national day celebration
Come celebrate with us on Oman national day, fly from Riyadh (OERK), or Mumbai (VABB) to muscat (OOMS ) which will be fully staffed by our air traffic controllers between 15z and 20z, We guarantee professional, flexible, and friendly service across the entirety of airspace you will fly over.
We really hope to see you there!

For more information click here.
17:00 - [DE] Frankfurt RFO
Over to Germany´s largest Airport!

We kindly invite you to join our Frankfurt Real Flight Operations event, taking place on 20th November 2020 between 17z and 21z. We are providing a full ATC coverage of the airport itself as well as of the radar positions around the 4th busiest airport in Europe. Moreover, a booking system including more than 200 flights is available for all pilots. The booking system is located on our Divisioncenter webpage.
For more information click here.
17:00 - [MA-XU] Destination Casablanca Europe Edition Leg1 - London to Casablanca One way
Dear Pilots, MA & XU division are presenting an tour-event which will consist from 7 legs.For each leg will assigned an route and date/time.
During that you will get an full atc coverage all over the route. After completing and reporting the tour you will get an one point. After having 7 point
you will get an Aviation Celebration Tours and Events and Pilot Events.The first leg will be with XU div.EGLL- GMMN 20th from 17z to 20z.
For more information click here.