00:00 - [AR] ONLINE DAY
Every Saturday IVAO Argentina will hold an Online Day Event - We are waiting for you

Saturdays from 00:00z to 23:59z - Peak Hour: 18:00z to 21:00z
For more information click here.
12:00 - [HQ] Europe Continental Online Day
The IVAO Events Department is pleased to present the second version of the Europe Continental Online Day. In this series, IVAO members have the opportunity to either fly and/or provide ATC services in a busy environment that simulates real-world procedures.

We invite you to join us on 20th of November 2021 to cover the entire European continent with flights and ATC services!
For more information click here.
12:00 - [PL]POLAND ONLINE DAY 12-21Z
Come and fly to Poland! We are providing full ATC every saturday from 12z to 21z
For more information click here.
16:00 - [HQ+MX] Guadalajara RFE
Miguel Hidalgo y Costilla International Airport (Guadalagara, Jalisco México) (IATA: GDL, ICAO: MMGL), it's one of the busiest and important airports in México, serves as an Airline and Cargo connecction HUB between regional aviation, cross-country, and over-seas flights bringing together México, USA, Southamerica and Europe. Also handle General Aviation, Executive Aviation, Fly schools and recreative aviation.

The Guadalajara International Airport also called Miguel Hidalgo y Costilla Airport, was built in 1966 and is located 16 kilometers from the city of Guadalajara. It is the third busiest airport in México, only after the International Airport of México City, and Cancun International Airport and the second busiest for air cargo flights. It has two runways and two terminals. It was named Miguel Hidalgo in honor of the hero of the Mexico Independence. Located 17 kilometers south of Guadalajara, Jalisco, on the road-Chapala Guadalajara and 15 kilometers north of Chapala, a town that trigger and name the largest lake in México. To the east is one of the most important industrial corridors of Jalisco, and the population that gives name to this industrial area El Salto Industrial Corridor.

For more information click here.
17:00 - [DZ] ALGERIA ONLINE DAY
WELCOME TO THE ALGERIAN AIRSPACE
IVAO Algeria Division presents an Online Day, every Saturday at 1700z - 2000z.
Full coverage of ATC with great service.
Come fly in the Algerian sky and discover the different airports!
The Algeria Division wish you a good flight !
For more information click here.
18:00 - [EG] Egypt Online Day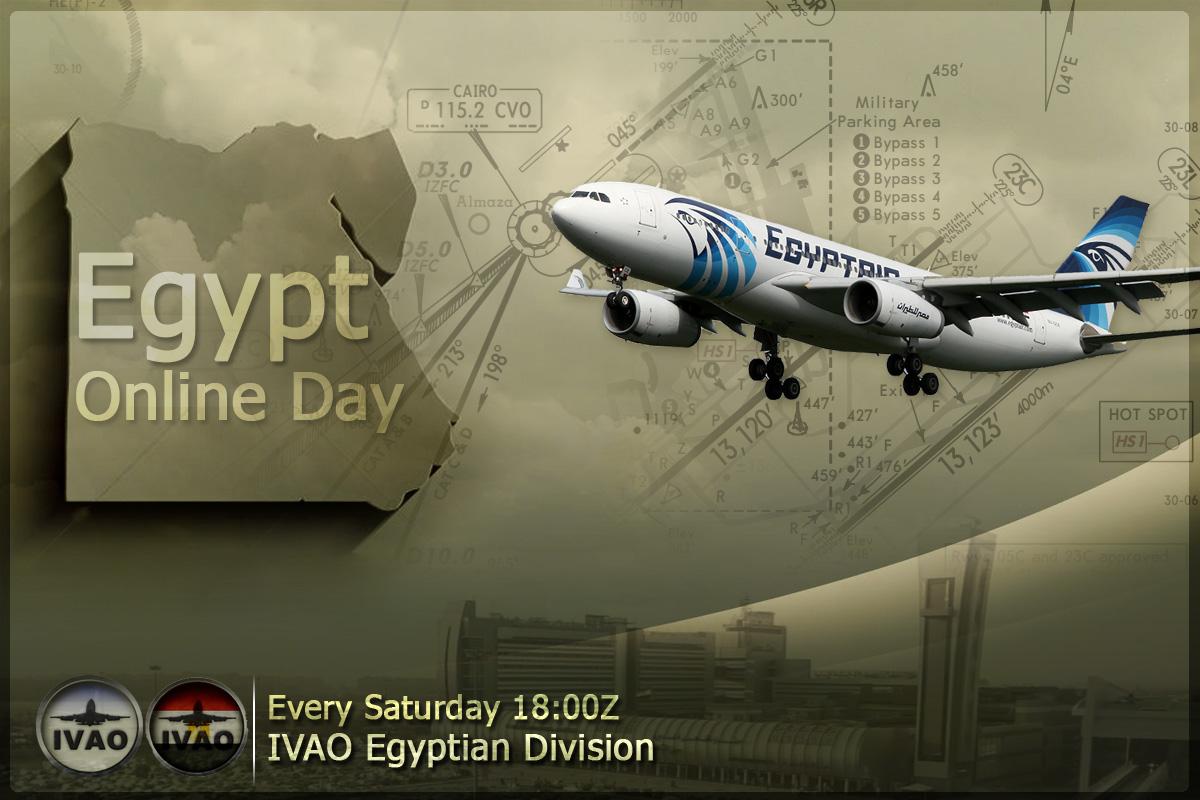 Egypt Online Day

Every Saturday IVAO Egypt will hold an Online Day Event, which will take place from 18z-21z. The event will consist of two or more aerodromes or TMAs offering FULL ATC for the duration of the event. Each Online Day will be in different locations, the locations will be chosen by members through voting through our EG Discord channel or through our EG Facebook page, the locations that receive the most votes will be those that will participate in the event.

Voting will start on Monday, and will end on the Thursday preceding the Saturday of the event.

If you have any questions, here are our email: eg-ec@ivao.aero
For more information click here.
19:00 - [VE] Venezuela Online Day
The Venezuela Division wants to invite you to participate in its weekly event "Online Day Venezuela." .
with full control in Venezuela.
We are waiting for you, we are counting on you!
For more information click here.