00:00 - Senegalese Online DAY
We are very welcome all traffic to our online day on every Saturday 12:00-00:00Z, and don't forget to report your flight at MODA system. Achieve 10 times and get Division Online Day Award.
For more information click here.
00:00 - [RO] Romania Online Day
Romania division invite you to participate to "Romania Online Day" every Saturday.

Hope you will enjoy it as much as we do.
To obtain the ATC Romania Online Day badge you must participate in 25 sessions of control during our Romania Online Evening.
Members out of RO division must have the GCA.
Each control will be reported on MODA System accessing to ODATC18 Tour.
For more information click here.
00:00 - [EG] Egypt Online Day
Egyptian Online Day is Held Every Saturday at 18:00 Z . Bring Your Wings & Come To See The Nile River , New Suez Canal and the Great Pyramids and Fly Under our Great ATC .

Also Feel totally Free to Contact me if you need anything On ( eg-ec@ivao.aero )


For more information, please visit the Egyptian division Forum at: EG Forum
see you all there.
For more information click here.
07:00 - [HU] HUNGARY 24H REAL OPS
IVAO Hungary Division is proudly presents HUNGARY 24H REAL OPERATIONS event, that starts at 21st July 0700Z and ends at 22nd July 0700Z.
During the event full ATC coverage will be available over Hungary, at the airports of Budapest(LHBP), Debrecen(LHDC), Sármellék(LHSM).
The ATC will be provided from Aeropark(airplane museum near LHBP). You cannot control from home during the event.
Come and fly with us!
Booking system: rfe.ivao.hu
For more information click here.
10:00 - [HK+HQ] RFE Taipei 2018 - Taoyuan x Songshan
We're expanding! After 3 years of RFE in Hong Kong, Kai Tak and Macao, let's move eastwards to the edge of Asia, and experience RFE Taipei! Taipei City, the capital of the Republic of China (ROC), has been served by two airports since the 80s - Taipei Taoyuan (RCTP/TPE) and Taipei Songshan (RCSS/TSA), which mainly serves international and domestic flights respectively. With full ATC coverage given, come test the skills of Taiwanese Air Traffic Controllers as you fly flights from the real schedule and make your way in and out of Taipei!
The whole event will be on 21 July 2018, from 1000z to 1600z.
For more information click here.
16:00 - [AO] Angola Online Day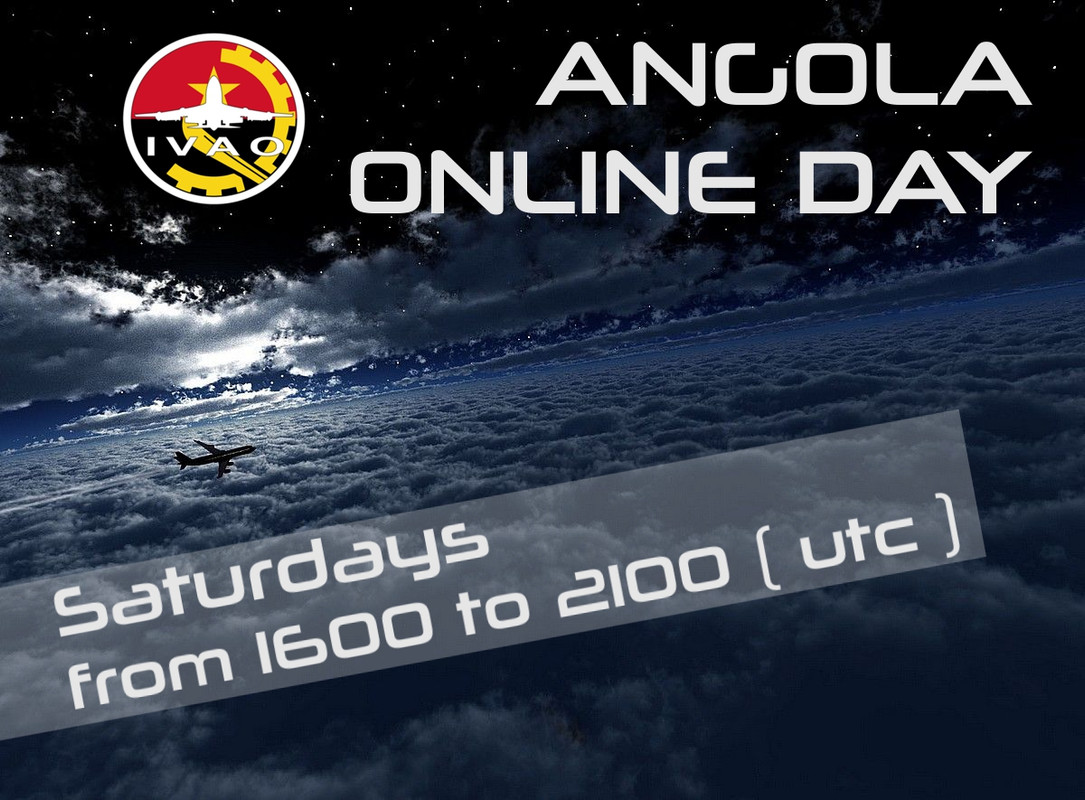 Angola division new online day 16 to 21UTC.
For more information click here.
16:00 - [MA] online day Morocco
WELCOME in online day in morocco airspace ;)
For more information click here.
17:00 - [HU] Hungarian Online Evening
Fly to the fully staffed Hungary FIR, every Saturday, and report your leg to the MODA system.
Hope to see you there.
For more information click here.