00:00 - CU ONLINE DAY 2020-2021
CU ONLINE DAY 2020-21
Every Saturday from 22z - 04z in winter and from 21z - 03z in summer, we celebrate our ONLINE DAY.
Pilots and ATC are welcome.
See you in "The largest of the Antilles"
For more information click here.
00:00 - [PT] Portuguese Online Day
Come and join us on the Portuguese Online Day every Saturday between 14z and 23z.
If you fly according to the rules and suggested route you can earn 1 point for the Division Online Day Award!
For more information click here.
00:00 - [AR] ONLINE DAY
Every Saturday IVAO Argentina will hold an Online Day Event - We are waiting for you

Saturdays from 00:00z to 23:59z - Peak Hour: 18:00z to 21:00z
For more information click here.
00:00 - [HQ+BR]IVAO Brasil – 20th Anniversary Event
The IVAO Brasil Events Department is pleased to present our event titled "IVAO Brasil 20th Anniversary". This event is a celebration of our achieved milestones in 20 years of our division.

Some members collaborated to IVAO-BR be today what we are. To celebrate our 20th Anniversary is a pleasure. This is a method to thank you all for your collaboration and assistance during this time. Today, the Brazilian Division is the biggest in IVAO in terms of active users, with 3.067 active members and almost NINE MILLION connected hours.

We invite you to join us on 21st August 2021 as we celebrate the life and achievements of our beloved IVAO Brasil!
For more information click here.
08:00 - [HU] Budapest Real Flight Event 2021
We're excited to announce that the Budapest Real Flight Event is back this year! Mark your calendars for August 21th, 2021, and book your flight! ATCs will once again get to control from Aeropark (Hungarian flight museum) near the Budapest Airport.
For more information click here.
12:00 - [PL]POLAND ONLINE DAY 12-21Z
Come and fly to Poland! We are providing full ATC every saturday from 12z to 21z
For more information click here.
14:00 - [HQ+XU] Boundless Birmingham
Boundless Simulations make immersive scenery addons for flight simulators, currently X-Plane11 & MSFS. With Boundlesses products, we help to bring the world to life, whilst transforming your simulation experience. By offering a mixture of freeware and payware products, they aim to make flight simulation addons more accessible than ever before.

IVAO HQ in collaboration with IVAO XU are pleased to present to you the first of a series of Boundless Events, the first event taking place at Birmingham (EGBB). Boundless have kindly also offered to sponsor this event, any member who purchases Boundless Simulations Birmingham Airport will be able to use code: IVAO_EXCLUSIVE for a 35% discount.

So why not come and test out your new scenery by flying at our Boundless Birmingham Event.
For more information click here.
17:00 - [DZ] ALGERIA ONLINE DAY
WELCOME TO THE ALGERIAN AIRSPACE
IVAO Algeria Division presents an Online Day, every Saturday at 1700z - 2000z.
Full coverage of ATC with great service.
Come fly in the Algerian sky and discover the different airports!
The Algeria Division wish you a good flight !
For more information click here.
18:00 - [EG] Egypt Online Day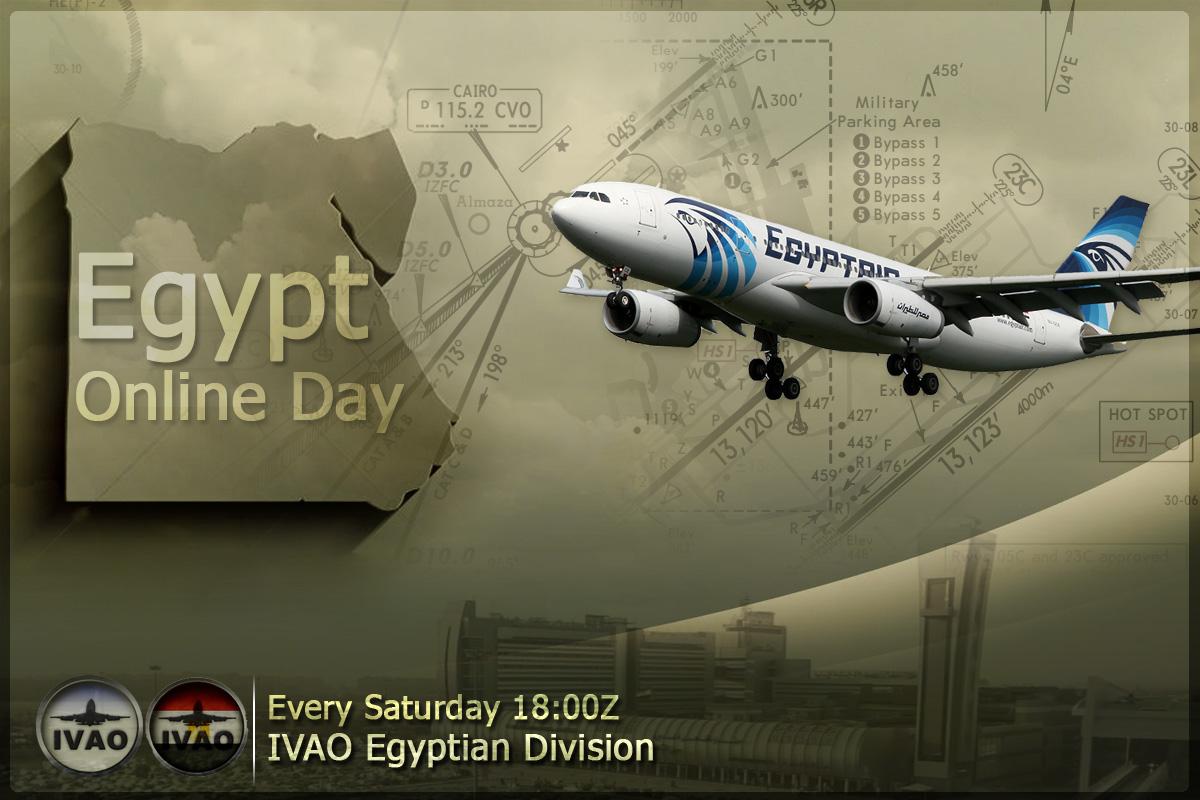 Egypt Online Day

Every Saturday IVAO Egypt will hold an Online Day Event, which will take place from 18z-21z. The event will consist of two or more aerodromes or TMAs offering FULL ATC for the duration of the event. Each Online Day will be in different locations, the locations will be chosen by members through voting through our EG Discord channel or through our EG Facebook page, the locations that receive the most votes will be those that will participate in the event.

Voting will start on Monday, and will end on the Thursday preceding the Saturday of the event.

If you have any questions, here are our email: eg-ec@ivao.aero
For more information click here.
19:00 - [VE] Venezuela Online Day
The Venezuela Division wants to invite you to participate in its weekly event "Online Day Venezuela." .
with full control in Venezuela.
We are waiting for you, we are counting on you!
For more information click here.