08:00 - [HQ+ID+IN+MY+TH+XE+XO] South Asia Online 4.0
IVAO Thailand, East Asia Region, India, Indonesia, Malaysia, and Oceanic Region Divisions, invites you to join our fourth iteration of South Asia Online Edition 4.0 event, which will be held on Saturday, 21st of December 2019 between 0800Z to 1500Z.
For more information click here.
13:00 - [FR] Strasbourg's Christmas Market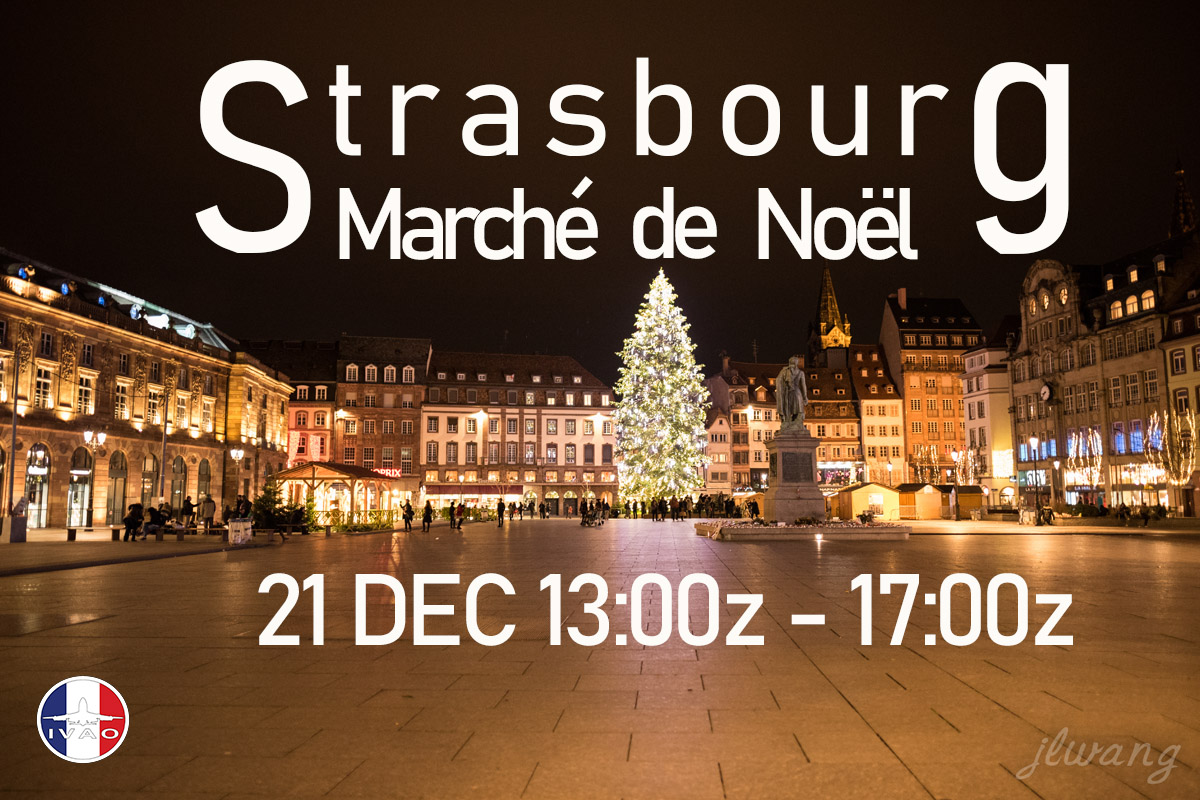 OH, OH, Ooh !
Like every year at this time of the year, runways in the far East of France are all under the snow. Fortunately, every year, a big group of elves ensure the runway at Strasbourg airport and taxiways are well cleaned from snow so you can come and enjoy, with your passengers, the famous Strasbourg's Christmas Market.

Therefore, join us and fly to Strasbourg (LFST) on Saturday December, 21st between 13:00 UTC and 17:00 UTC!

We do hope you will use your greatest airplanes to bring tons of Christmas presents under the Christmas Tree ! Also, we will have a great surprise for you that day !

Finally, remember to have (hundreds of) extra fuel and mulled wine to comfortably enjoy the holding patterns! Also, this year, county has planned to run sleigh shuttles from Metz Nancy Lorraine Airport (LFLJ) and Strasbourg as this time of the year is always very very busy at Strasbourg, thanks to you all ;)
For more information click here.
16:00 - [MA] Morocco Online Day
You are welcome every saturdays, at the most important Morocco airports, like Casablanca, Marakesh, Fes, etc.
Make sure your flight is arriving or departing from Morocco.

To obtain the Morocco Online day badge you must participate in 10 sessions of control during our Romania Online Evening.

[img]https://www.ivao.aero/data/images/awardsdiv/OD.gif[/img]

Members out of Morocco division must have the GCA.

Fun are guaranteed.
For more information click here.
17:00 - [AO] Angola Online Day
Each saturday Angola division is inviting you to the Angola Online Day.
For more information click here.
20:00 - [MA] - Lahcen El Harda Memorial Event
On Saturday 21nd December from 20z to 23z, Morocco Division, with an airbrige between GMMN (Casablanca) and GMFF (FES), will introduce his "In memorial" event created for our former Division Director, Lahcen El Harda, who passed away the night between the 5 and 6 december of 2018 ...
For more information click here.