00:00 - Turkey Online Day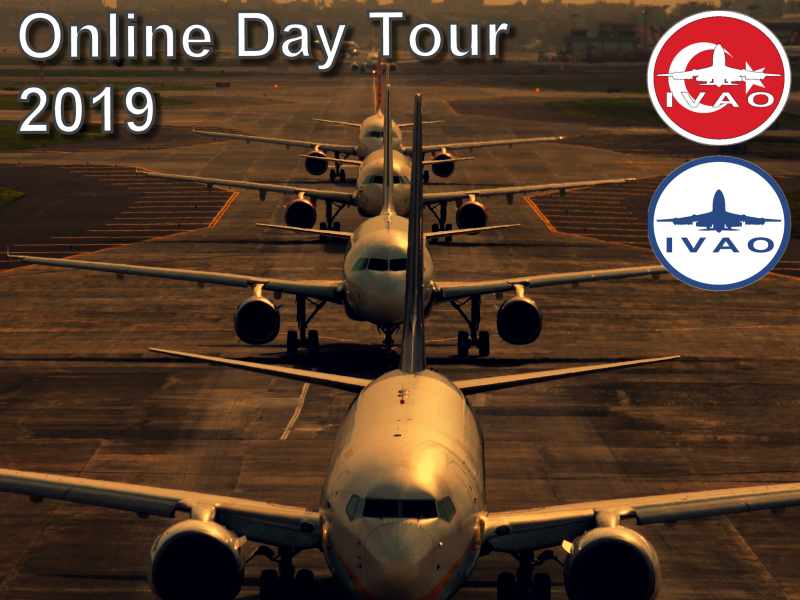 As IVAO TR Division, we are waiting for our biggest online day event every Monday
For more information click here.
00:00 - [PL] Poland Online Evening
Enjoy ATC staffed Polish skies
For more information click here.
14:00 - [ES] ONLINE DAY
Each tuesday the Spanish division will provide the possibility to have ATC coverage for a stunning area. Professionalism and experience will given to all pilots, that will fly in the spanish's skies. Come on guys! Madrid, Málaga, Palma de Mallorca, Valencia, they are bigs airports and are waiting for you.

Free your wings and enjoy this great ONLINE DAY.
For more information click here.
16:00 - [SK+HR] Kosice - Split Airbridge
The Slovakian and Croatian divisions invite you to join an airbridge event between our two cities of Kosice and Split. Come and fly the last summer tourists back home from the vacations.
For more information click here.
17:00 - [RO] Romania Online Day
IVAO Romania invites you to participate to "Romania Online Day" every Tuesday between 17:00 and 20:00 UTC.


To obtain the Romania Online Day ATC badge you must control in 25 sessions during the online day.
Members outside of the RO division must have GCA.
Each control session will be reported in the MODA System under the ODATC18 Tour.
For more information click here.
17:00 - [UA] UKRAINE ONLINE EVENING
IVAO Ukraine is pleased to invite you to Online Evenings in Ukraine! We're waiting for all of you every Tuesday from 17:00z in Ukrainian airspace! And stay tuned for further updates as we have many interesting things to come!
For charts and sceneries refer to our website: http://en.ivao-ua.com/
For more information click here.
17:00 - [SI] SLOVENIA ONLINE EVENING
IVAO Slovenia Online Evening every Tuesday from 1700z till 2000z.
For more information click here.
17:00 - [XB] BeLux Online Evening
Every Tuesday BeLux Region is having its weekly Online Evening. The goal of this evening is to attract as much traffic as possible to one or more focus airports situated in Belgium and Luxembourg. These focus airports will vary from time to time in order to give the participating pilots and controllers the possibility to explore the different commercial airports in the vicinity. Make sure to check the page below before participating to the Online Evening to see where the traffic activity will be going on. We look forward to seeing you there!
For more information click here.
23:30 - [CL] FIR SANTIAGO OVERLOADED
The IVAO Chile Event & Training Department, are pleased to invite you to the event FIR Santiago OVERLOADED, will consist of a flight plan IFR which you fly from / to / between the Santiago FIR (SCEZ), the airports involved in the FIR are La Florida (SCSE), Carriel Sur (SCIE) and Santiago (SCEL). However, it is not mandatory to fly to those airports directly: you can both fly in the FIR on a "in transit" flight, as you can also arrive to the FIR from any airport you want. But we recommend flying to airports that have connected Approach, like SCSE and SCIE.
Let's support Joaquín Ampuero in his ACC exam to get his third golden star!
For more information click here.