00:00 - [PT] Portuguese Online Day
Come and join us on the Portuguese Online Day every Saturday between 14z and 23z.
If you fly according to the rules and suggested route you can earn 1 point for the Division Online Day Award!
For more information click here.
00:00 - [AR] ONLINE DAY
Every Saturday IVAO Argentina will hold an Online Day Event - We are waiting for you

Saturdays from 00:00z to 23:59z - Peak Hour: 18:00z to 21:00z
For more information click here.
12:00 - [XE+HQ] Dragon Memorial Series: Last Flight
One year ago, the last Cathay Dragon flight touched down in the late evening on 21 October after a short flight from Shanghai Pudong, one of the company's most popular routes at that time. This was also the last day when the local regional airline ceased operations under the pandemic. Coming to the second Dragon Memorial Series, we are introducing the groupflight from Shanghai to Hong Kong with this memorial flight.
The whole event will be on 23 October 2021, from 1200z to 1600z.
For more information click here.
12:00 - [PL]POLAND ONLINE DAY 12-21Z
Come and fly to Poland! We are providing full ATC every saturday from 12z to 21z
For more information click here.
14:00 - [HQ+VE] Maiquetía SVMI | RFE 2021
The time has come for Real Flight Event Maiquetía with more than 200 flights to choose from! Do not miss it!
For more information click here.
15:00 - Vienna < > Stockholm (Dual)Airbridge
Summer is over, as well the summerholidays. The Austrian division, in cooperation with XN-Division, kindly invites you to the first event of the season. We offer you an (dual-way) airbridge between the wonderful capital cities of Austria and Sweden. We hope you will enjoy the excellent service at our major airports.

Event Date: 23rd of October 2021
Event Time: 1500z - 1900z
Event Type: AirBridge (Both Way)
Country: Austria and Sweden (XN)
Airports involved: LOWW and ESSA


For more information click here.
17:00 - [DZ] ALGERIA ONLINE DAY
WELCOME TO THE ALGERIAN AIRSPACE
IVAO Algeria Division presents an Online Day, every Saturday at 1700z - 2000z.
Full coverage of ATC with great service.
Come fly in the Algerian sky and discover the different airports!
The Algeria Division wish you a good flight !
For more information click here.
18:00 - [EG] Egypt Online Day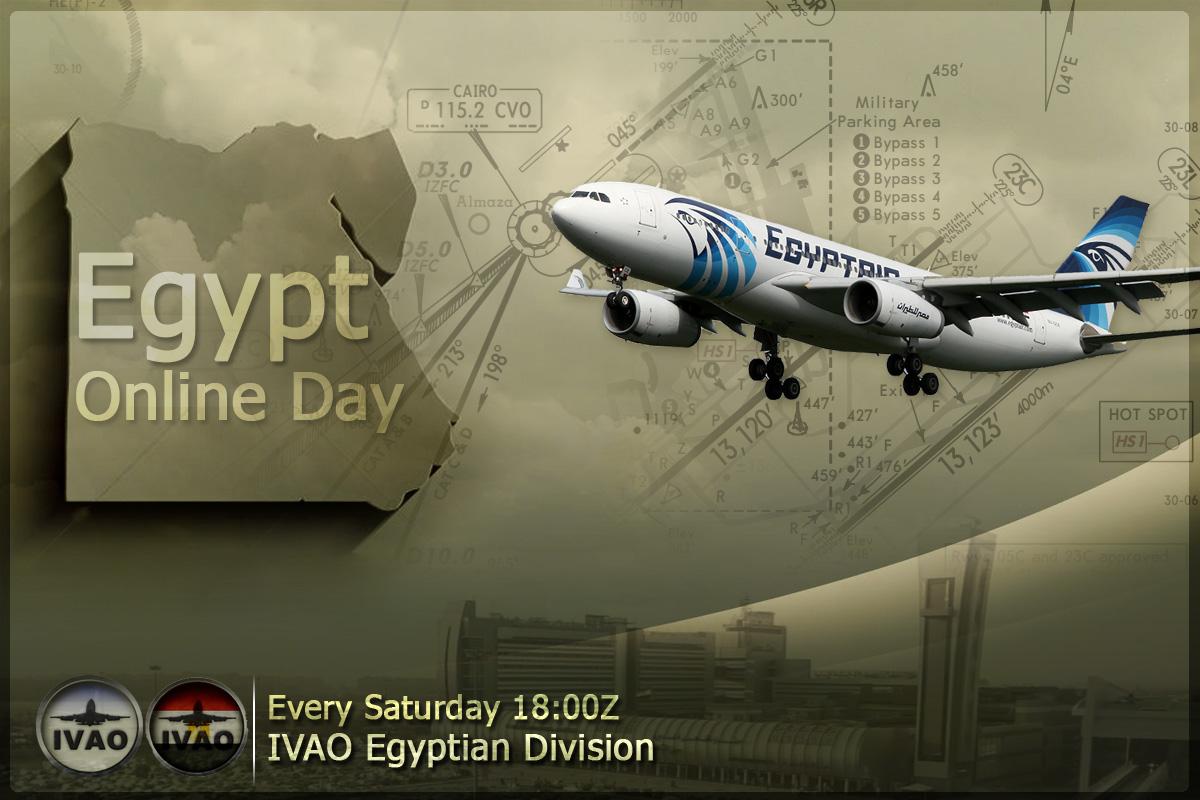 Egypt Online Day

Every Saturday IVAO Egypt will hold an Online Day Event, which will take place from 18z-21z. The event will consist of two or more aerodromes or TMAs offering FULL ATC for the duration of the event. Each Online Day will be in different locations, the locations will be chosen by members through voting through our EG Discord channel or through our EG Facebook page, the locations that receive the most votes will be those that will participate in the event.

Voting will start on Monday, and will end on the Thursday preceding the Saturday of the event.

If you have any questions, here are our email: eg-ec@ivao.aero
For more information click here.
19:00 - [VE] Venezuela Online Day
The Venezuela Division wants to invite you to participate in its weekly event "Online Day Venezuela." .
with full control in Venezuela.
We are waiting for you, we are counting on you!

For more information click here.
23:30 - [MX+XA]MMSD-KLAX Airbridge
IVAO México and IVAO XA INVITES you to this event MMSD-KLAX Airbridge, come to enjoy flying with ATC services and traffic flying the same route!



Day: Saturday october 23rd, 2021

Time: 2330z-0400z

Airports: MMSD (Aeropuerto Internacional Los Cabos) & KLAX Los Angeles Airport

Aircraft Allowed: All
For more information click here.