00:00 - [NL] The Netherlands Online Evening
Visit our online evening as pilot on one or more of our regional airports or login as air traffic controller on EHGG, EHBK, EHEH and EHRD and get a point for the Division online Day Award
For more information click here.
00:00 - [XR] Russian Federation and Kazakhstan Online Day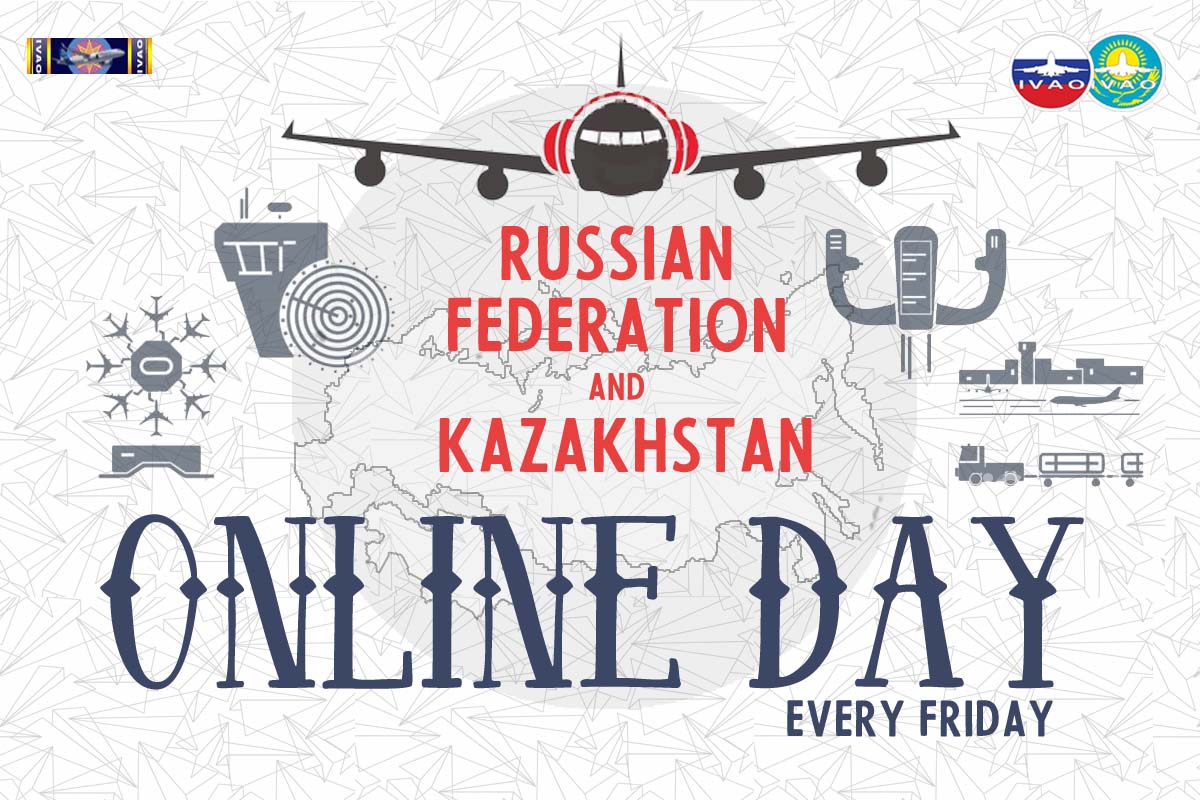 We want to welcome everyone to join us every Friday to enjoy plenty of ATC service and mini-events in the Russian Federation and Kazakstan skies.
We are extremely happy to announce that the new Online Day Tour is now open.
See you there.
For more information click here.
00:00 - IVAO 20th Anniversary Airbridge: UKBB <> LTBA
Dear fellow IVAO members,
20 years have passed since IVAO was founded! ALL DIVISIONS are celebrating this using a series of air-bridge events.
We are delighted to invite you to our division's participation to this series:
For more information click here.
13:00 - [TH] Thailand Onlineday
Welcome everyone to Thailand Division Onlineday Every Friday 1300Z – 1600Z
For more information click here.
16:00 - XG Online Day
XG Online Day
17:00 - [CZ] Open Skies [LKAA 30 HRS ONLINE 2018]
It is the tradition – worldwide known event of the Czech Division of IVAO, in the brand new look, a lot better, with the glamorous name – Open Skies.
For more information click here.
17:00 - [23 NOV | 17z-20z ] [AT+PL] Capital Connect | EPWA <>LOWW
Austria and Poland combine good and beautiful similarities from history, but also sad and terrible ones. Mutual relationships go back many centuries in the past. Some establish the formal beginning of relations with July 22, 1515, more than 500 years ago. At that time, the "First Congress of Vienna" took place, at which celebrated a Habsburg-Jagiellon double marriage between the Jagiellonian Bohemian-Hungarian heir to the throne Ludwig, King Wladislaw's son, with Emperor Maximilian's granddaughter Maria on the one hand, and King Wladislaw's daughter Anna with the emperor's grandson Ferdinand has been.
Today, both states are closer than ever before in history. Austria and Poland associate joint membership of the United Nations - where Vienna is one of the headquarters - with the Organization for Security and Cooperation in Europe (OSCE), based in Vienna, and the Warsaw Office of the OSCE Office for Democratic Institutions and Human Rights (ODIHR), as well as the Council of Europe and, above all, the European Union (EU), in which Austria holds the rotating chairmanship in the second half of 2018. Austria and Poland are also part of the Schengen area.
A large number of regular visits at state, regional and municipal level as well as in the political, economic, scientific and cultural fields, as well as between the civil societies of both countries, express the present-day affinity of both states and populations.

See you on the event!

IVAO Austria & IVAO Poland Event Department
For more information click here.
17:00 - [TN] Tunisia Online Evening
Every Friday IVAO Tunisia is having its weekly Online Evening. The goal of this evening is to attract as much traffic as possible to one or more focus airports situated in Tunisia . These focus airports will vary from time to time in order to give the participating pilots and controllers the possibility to explore the different commercial airports in the vicinity. Make sure to check this thread before participating to the Online Evening to see where the traffic activity will be going on. We look forward to seeing you there!

For more information click here.
19:00 - [DZ] Algerian Online Day

RUSH HOUR IN ALGERIAN SKY.

IVAO Algerian Division presents an Online Day every Friday at 1900z.
Great coverage of ATC with great service.


DZ Division wish you good flight !


All charts are available at: Algeria Charts

Come and fly in Algeria !
For more information click here.
20:00 - [PT] Portugal Online day
We are pleased to invite you to join us at fridays, to participate in the Portuguese Division Online Days, where you can flight with the FULL ATC.
For more information click here.