00:00 - [PE] Online Day
Hey!
Let's fly and enjoy our Online Day.
For more information click here.
03:00 - [UY] Uruguay Online Day, ALL DAY!!
Come fly and enjoy in our online day, every saturday all day long!!
(Peak hour 19z - 23z)
04:00 - [XB] Charleroi RFE & IVAO Belux Aviation Day
IVAO BeLux Region is inviting you to the second Brussels South Charleroi Real Flight Event! During a full day we will simulate a real flight schedule in order to give you an idea of what a summer season Saturday on one of Europe's best performing low cost airports looks like.

Are you more into general aviation flying? No problem, Brussels South Charleroi Airport has the infrastructure to handle both the general aviation and the low cost segments. If you want to participate, please read through to find out everything you need to know!

Also, you can expect various online workshops and Special Operations demonstrations.
For more information click here.
10:00 - [HQ+FR] Bordeaux 25 Hours
291 in 2019, 310 in 2017 (that's the record !), number of movements on Bordeaux Merignac airport changes every year. The lenght, however, is invariable : 24 hours of ATC coverage.

24 hours did you say? Look again! This year 24h at Bordeaux are actually 25h at Bordeaux, because this year time change matches our event.

On Saturday 24th October, from 10:00UTC and for 25 hours, join us for the famous rendez-vous on the girondins airport. everything is set up, our movement record will be broken!
For more information click here.
12:00 - [XE+TH] Lanna Oriental Express
Together with Thailand Division, we bring you this vacation flight between Hong Kong and Chiang Mai. Fly across Vietnam and Laos, and challenge yourself at Chiang Mai Airport, with an elevation of one thousand feet. Fly in either direction and appreciate the professional ATC services enroute!
The whole event will be on 24 October 2020, from 1200z to 1600z.
For more information click here.
16:00 - [PT] Portugal Online Day
We are pleased to invite you to join us every Saturday, from 1600z to 2200z to participate in the Portuguese Division Online Days.
For more information click here.
17:00 - [SI+HR] LJLJ - LDSP - LYBE Triangle AirBridge
Triangle event is back in the Balkans region. We will connect Slovenia, Croatia and Serbia with three main airports of Ljubljana-LJLJ, Split-LDSP and Belgrade-LYBE.
For more information click here.
17:00 - [PL] Poland Online Evening
New series of Poland Online Evenings!
Fly or control throughout Polish skies to have magnificent fun and to collect a Division Online Day Award.
Forward to hearing you on the frequency!
For more information click here.
18:00 - [EG] Egypt Online Day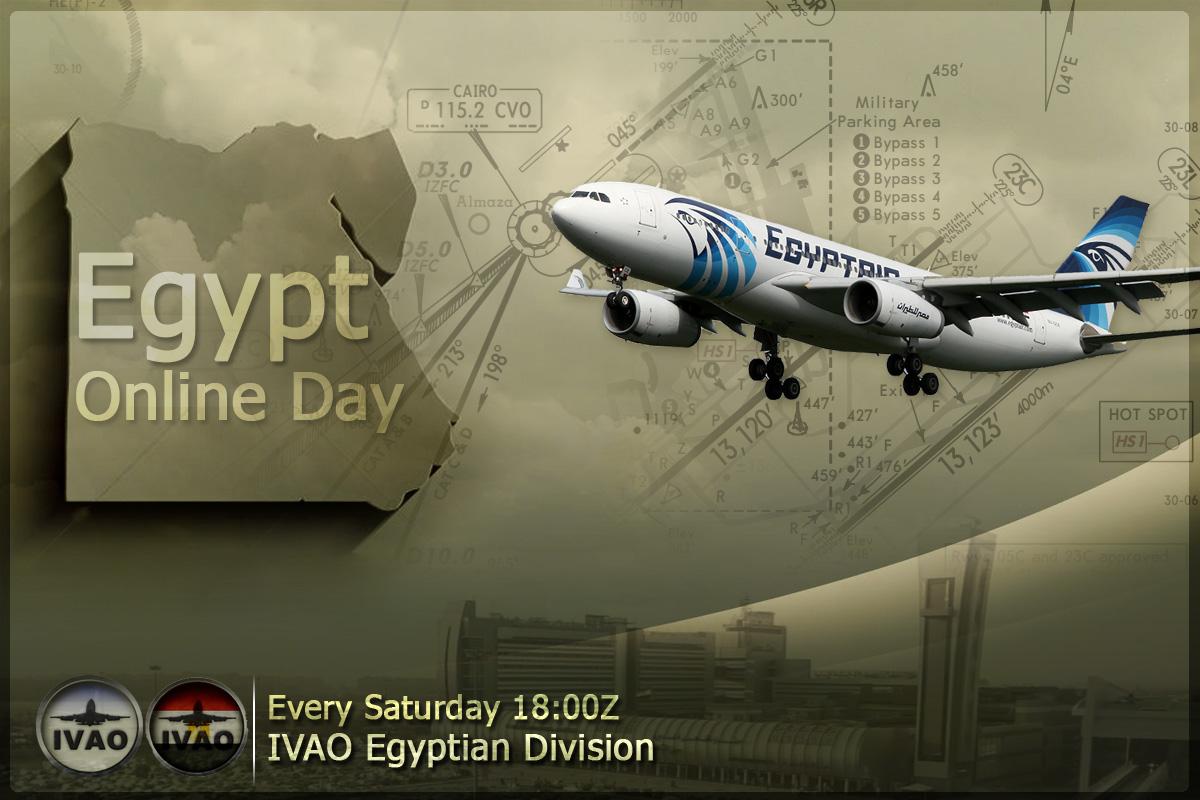 Egypt Online Day

Every Saturday IVAO Egypt will hold an Online Day Event, which will take place from 18z-21z. The event will consist of two or more aerodromes or TMAs offering FULL ATC for the duration of the event. Each Online Day will be in different locations, the locations will be chosen by members through voting through our EG Discord channel or through our EG Facebook page, the locations that receive the most votes will be those that will participate in the event.

Voting will start on Monday, and will end on the Thursday preceding the Saturday of the event.

If you have any questions, here are our email: eg-ec@ivao.aero
For more information click here.
18:00 - [SD] Sudan Online Day
Bring your wings to our [b]Online Day[/b] every Saturday from 18z-21z
For more information click here.
19:00 - [BR] Online Day
Todos os Sábados (com excessão aqueles que já tenham outros eventos) a IVAO Brasil fará um Evento Online Day, que acontecerá das 19z-22z. O evento consistirá de dois ou mais aeródromos ou TMAs oferecendo FULL ATC durante toda a duração do evento. Cada Online Day será em localidades diferentes, as localidades serão escolhidas pelos membros por meio de votação pelos nossos canais do discord ou pela nossa pagina do facebook, as localidades que receberem a maior quantidade de votos serão as que partiparão do evento.

A votação se iniciará na segunda feira, e se encerrará na quinta feira precedente ao sábado do evento.
For more information click here.
19:00 - Ecuador Online Day
Come and fly to/from/in Ecuador and enjoy the Online Day to discover the beautiful landscapes we have in our country. Mountains, Sea, Galapagos Islands and Amazon regions are waiting for you with ATC Service from 19z every Saturday.
Report to our Tour system and get your medal after 25 participations as ATC or Pilot in our country !
For more information click here.