00:00 - [CL] ONLINE DAY
This is an event every Sunday from 00:00z to 24:00z, in which you can control in the position you prefer, and fly in the aircraft of your choice.
For more information click here.
00:00 - [PE] Online Day
Hey!
Let's fly in our Online Day.
For more information click here.
10:00 - [XN] COPENHAGEN RFE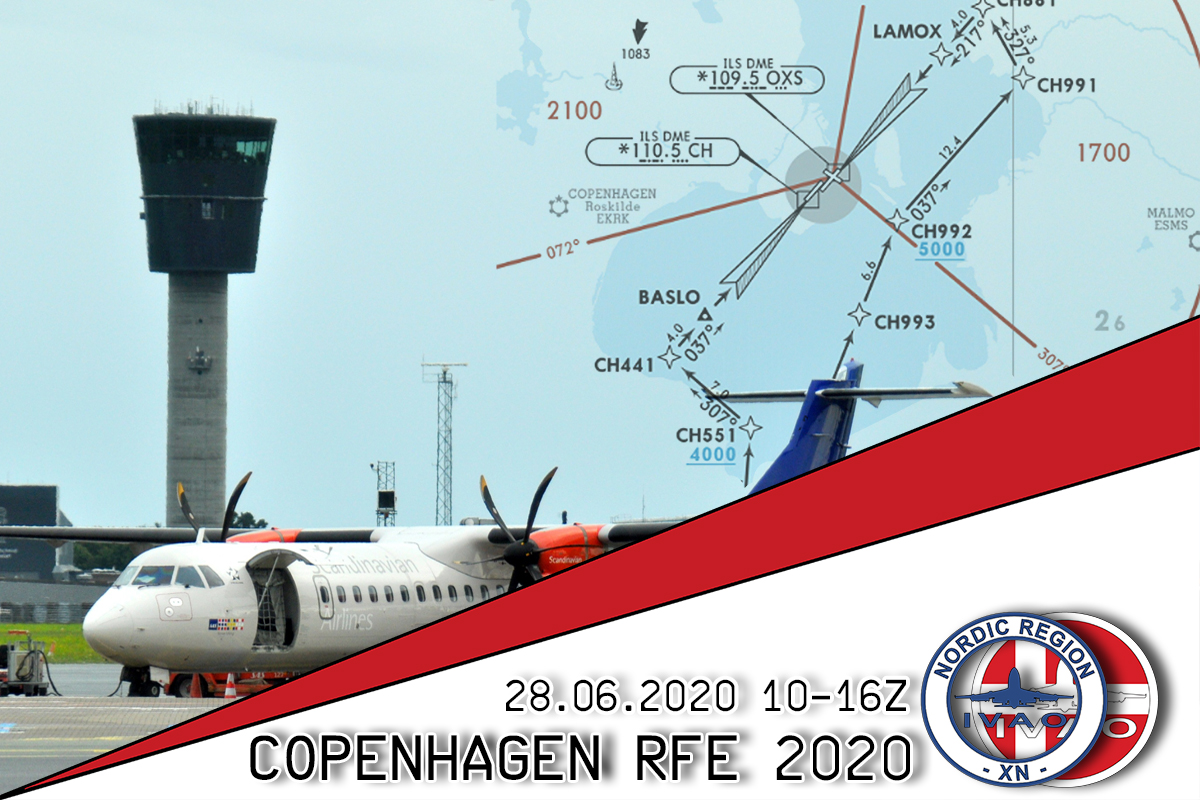 On behalf of IVAO Nordic Region, it's our pleasure to (re)announce Copenhagen RFE. This real flight event will take place in Copenhagen International Airport (EKCH) the 28th of June 2020 from 10z to 16z. The booking system (a completely revamped one!) has been already released in order to allow all of you to book your favourite flight and/or rotation! Private Slots are available too! In this way you can join our RFE Event with your Virtual Airline/Cargo Airline and with your favourite aircraft!
For more information click here.
11:00 - [GE] Georgia Online Day
Every Sunday: Georgia Online Day from 1100utc - 1700utc (1500 - 2100 LT)
For more information click here.
11:00 - [IN] TRIANGULAR KONNECT EVENT
IVAO India Events invites all IVAO members to our Triangular Konnect Event
Flights will be consisting of 2 legs:-

Leg1: Mumbai (ICAO: VABB) to Hyderabad (ICAO: VOHS)

Leg2: Hyderabad (ICAO: VOHS) to Goa (ICAO: VOGO)
Total duration of flight will be 3hr 00mins

Experience a full ATC Services from India Division ATC Operations
LIVE from 1100z to 1500z and extended depending upon traffic.
For more information click here.
16:00 - Swiss Sunday
After the typical hourlong family dinner, the pile of homework or the hours of doing nothing, come fill up the swiss skies! A blast of fresh air before diving back into the week.

Bring over your wings to Switzerland and meet our beautiful airports. Come on to do some IFR between our main airports or take your VFR certified plane out of your hangar!
For more information click here.
16:00 - [HU] Challenge The Staff
IVAO Hungary is proud to announce challenge the staff event, which will be held on the 28th of June. Come and fly to the Budapest Liszt Ferenc International Airport (LHBP), while the staff challenge is to handle the extra workload and provide the best quality ATC service for every pilot.
For more information click here.
16:00 - Schiphol [EHAM] Summer Destinations
The winter destinations have become to an end, which means, the summer destinations are here! Transavia, Corendon and TuiFLY will open their summer destinations! On behalf of The Netherlands division, in cooperation with Spain, Greece, Italy and Croatia divisions, we would like to introduce you to 'Schiphol Summer Destinations'. This event give pilots the opportunity to fly from Schiphol to one of the 6 summer destinations. During the winter period, these destinations don't fly from Schiphol which means that they are only flown during the summer. Check the schedule of our flights down below.
For more information click here.
17:00 - [AO] Angola Online Day
Every Sunday IVAO Angola is having its weekly Online day. The goal of this day is to attract as much traffic as possible to one or more focus airports situated in Angola, in order to give the participating pilots and controllers the possibility to explore the different commercial airports in the nearby. We look forward to seeing you there!

To obtain the Angola Online day badge you must participate in 25 sessions of control and Pilot during the Event.

All Members out of Angola division must have the GCA.

Fun are guaranteed.
For more information click here.