03:00 - [DE] Munich RFE
We kindly invite you to Munich. You will have the opportunity to book one or more flights out of 1066 available flights within our booking system at our anual Real Flight Event (RFE). 14 ATC-stations will be available for you. Live. On 28th September 2019 from 03z till 21z.
For more information click here.
07:00 - [SI] Portoroz Airport Open Day PDE
Location of PDE: At Portoroz LJPZ airport where an airport open day will be happening and you can find us at the IVAO Slovenia counter.
PDE Description: At our counter IVAO Slovenia staff will demonstrate how to connect as a pilot or air traffic controller on the IVAO network. Also flights under air traffic control will be demonstrated using proper phraseology and flight procedures. You will be able to fly an aircraft in the flight simulator or take a microphone and do the air traffic control. At the end you will get a nice souvenir from us!

For more information click here.
12:00 - [SO event] [XB] EBFN Airshow
Special Operations event: BELUX Region Division is excited to invite you to the annual Koksijde (ICAO EBFN) airshow. The theme of this year's airshow is the remembrance of 75 years since D-Day.

You can bring all types of planes as long as they are approved for aerobatic manoeuvres, from C-152 Aerobat to DC-3 or even Spitfire.

The airshow constitutes performance of aerobatics for our guests on the ground.

Similarly to the last year's event you can expect a Twitch live stream with comments during the entire flying display show. We hope you will enjoy this event as much as we do and hope to see again your flying machines flying at low altitude over EBFN in future EBFN Airshow edition.

Detailed Event Master plan is provided on the HQ-SOD website.
Participants' registration is required at HQ-SOD website.

For more information click here.
14:00 - [HQ+XR] Formula 1: Russian GP 2019 Sochi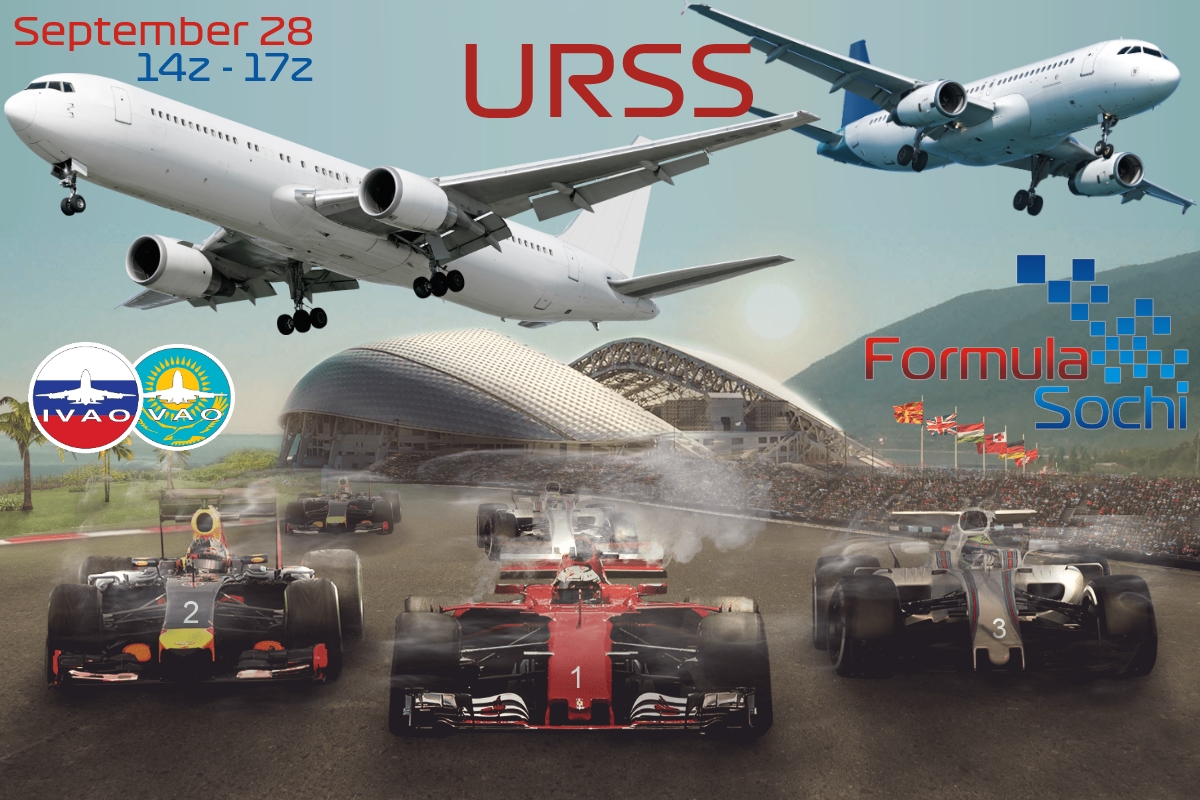 FORMULA 1 racing – the most anticipated and prestigious Event in the world of motor sport that combines innovative technology, incredible speed, competitive spirit and a strong historical tradition.

We invite everyone to fly to Sochi having F1 teams and lots of visitors on board.

Sochi Autodrom is the most modern circuit in Eastern Europe. The venue has been designed by Russian experts in conjunction with Tilke Gmbh & Co., the head of which – Hermann Tilke – has designed most of the modern F1 tracks. The location of Sochi Autodrom makes it special - the circuit is located in the Olympic Park, which hosted the Olympic Winter Games in 2014. The most interesting part of the track is its long turn 3 - 650-metre turn is the longest one in the Formula 1 calendar, and the negative incline of the surface is a difficult challenge for the drivers.
For more information click here.
15:00 - Iran Division's 11th Anniversary Event
Mashhad ( OIMM ) And Ahwaz ( OIAW ) Airbridge.
For more information click here.
16:00 - [MA] Morocco Online Day
You are welcome every saturdays, at the most important Morocco airports, like Casablanca, Marakesh, Fes, etc.
Make sure your flight is arriving or departing from Morocco.

To obtain the Morocco Online day badge you must participate in 10 sessions of control during our Romania Online Evening.

[img]https://www.ivao.aero/data/images/awardsdiv/OD.gif[/img]

Members out of Morocco division must have the GCA.

Fun are guaranteed.
For more information click here.
18:00 - [DZ]ALGERIA ONLINE DAY
You are welcome every Saturday from 1800z to 2100z, at the most important Algeria airports, like Algiers, Oran, Constantine, etc.
Make sure your flight is arriving or departing from Algeria (DAAA FIR).

To obtain the Algerian Online day Award you must participate in 25 sessions of ATC or Pilot
For more information click here.
19:00 - [CO] CARIBBEAN ONLINE DAY
IVAO COLOMBIA, VENENZUELA, DOMINICAN REPUBLIC and Netherlands Antilles Invites you to participate in the evenet ONLINE DAY.An event in which you can enjoy flying or controlled in a afternoon with the majority of dependencies of our four divisions, achieving a higher level of immersion in the operations that are carried out in real life.
For more information click here.