00:00 - [PE] Online Day
Hey!
Let's fly and enjoy our Online Day.
For more information click here.
00:00 - [BR] Online Day
Todos os Sábados (com excessão aqueles que já tenham outros eventos) a IVAO Brasil fará um Evento Online Day, que acontecerá das 19z-22z. O evento consistirá de dois ou mais aeródromos ou TMAs oferecendo FULL ATC durante toda a duração do evento. Cada Online Day será em localidades diferentes, as localidades serão escolhidas pelos membros por meio de votação pelos nossos canais do discord ou pela nossa pagina do facebook, as localidades que receberem a maior quantidade de votos serão as que partiparão do evento.

A votação se iniciará na segunda feira, e se encerrará na quinta feira precedente ao sábado do evento.
For more information click here.
03:00 - [UY] Uruguay Online Day, ALL DAY!!
Come fly and enjoy in our online day, every saturday all day long!!
(Peak hour 19z - 23z)
10:00 - [HQ+PL] Poland RFE
The biggest event in the Polish Division.
160 real life flights.
ATC and Follow me services at 4 airports waiting for you.
A chance to obtain HQE Award!
Join us and you will not regret it!

For more information click here.
11:00 - [XE+ID] Hong kong - Jakarta Airbridge 2020
It's the annual collaboration once again of East Asia and Indonesian Divisions! Come join the stream from Hong Kong to Jakarta as we celebrate their anniversary of the Jakarta Soekarno-Hatta Airport!
For more information click here.
12:00 - [SO EVENT][XB]Frank Phlippo Memorial Air Show
On 29th August, we would like to invite you to our Tribute and airshow at Koksijde. This year's airshow is dedicated to Frank Phlippo and to make it an event for all members, we are adding an extra Tribute day.
Frank Phlippo, a former special operations coordinator of our division, died this year.

Aside from being the second most active member in IVAO's history, he was also a retired air force pilot officer on many types, including Sikorski helicopters but also F-104 Starfighter and Fouga Magister.

Additionally, for many years, he organised a huge air show in Koksijde Air Base, close to the coast. For that reason, and on the month of his birthday, we would like to organise a memorial air show on IVAO.

The "Frank Phlippo Memorial Air Show" will take place at Koksijde Air Base (aka BKoks) - EBFN on 29 AUG 2020 between 1200z and 1600z.
For more information click here.
14:00 - [GR] Rhodes Overload
IVAO Greece invites you on Saturday, August 29, 2020 14:00utc - 17:00utc, to participate as a pilot and ATC,
with a Fly-In into the beautiful island of Rhodes (Rodos) "Diagoras" Airport. Full ATC coverage!

So, get ready, take your sunscreen, your towels and swimsuits and let's go to the unique island of RODOS
For more information click here.
16:00 - [PT] Portugal Online Day
O Onlineday continuará a cobrir o espaço aéreo português inteiro, no entanto, todas as quartas-feiras irá ser lançada uma rota especifica para o Onlineday, de maneira a torná-lo mais dinâmico e apelativo. Essa rota será publicada sempre no Discord da Divisão como também nos comentários do post do fórum.


The Online Day will still cover the entire Portuguese airspace, however, on each Wednesday, the IVAOPT division will publish a specific route that is suggested to be flown.
This route will be published on the IVAOPT divisional Discord channel and in the commentary section of the forum post.
For more information click here.
17:00 - [PL] Poland Online Evening
New series of Poland Online Evenings!
Fly or control throughout Polish skies to have magnificent fun and to collect a Division Online Day Award.
Forward to hearing you on the frequency!
For more information click here.
18:00 - [EG] Egypt Online Day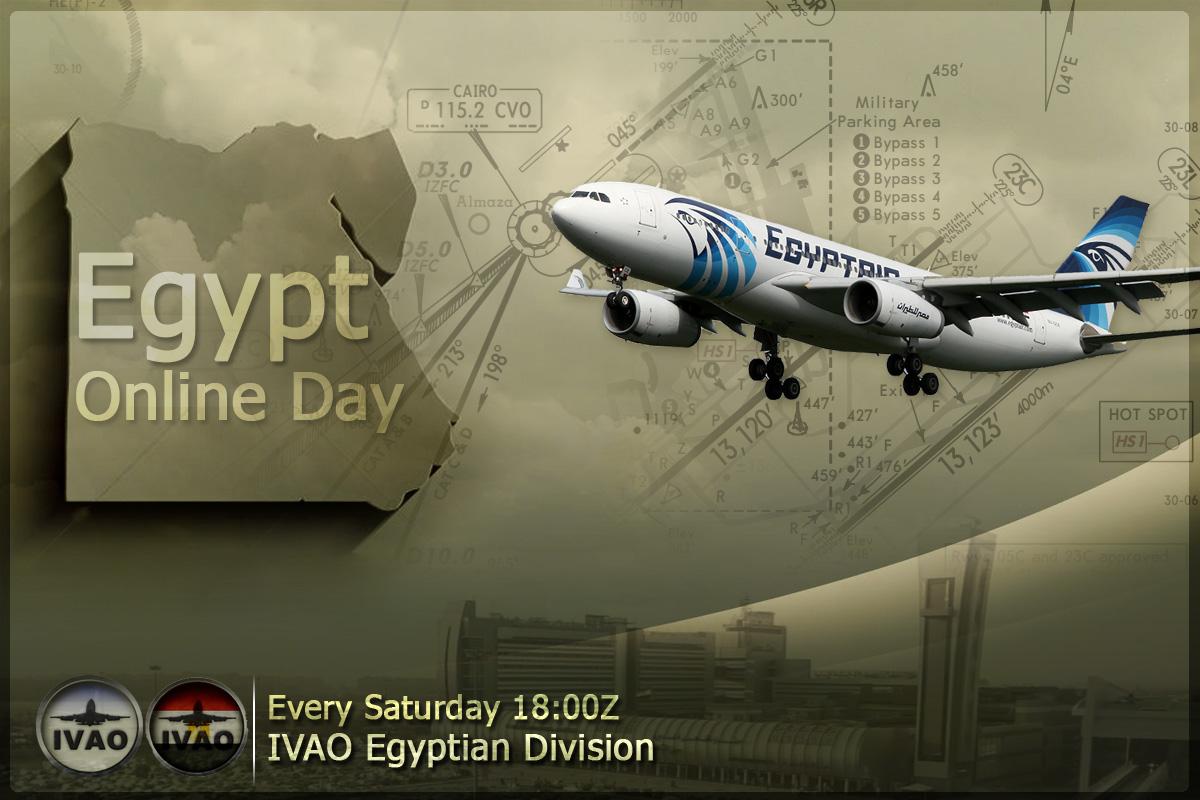 Egypt Online Day

Every Saturday IVAO Egypt will hold an Online Day Event, which will take place from 18z-21z. The event will consist of two or more aerodromes or TMAs offering FULL ATC for the duration of the event. Each Online Day will be in different locations, the locations will be chosen by members through voting through our EG Discord channel or through our EG Facebook page, the locations that receive the most votes will be those that will participate in the event.

Voting will start on Monday, and will end on the Thursday preceding the Saturday of the event.

If you have any questions, here are our email: eg-ec@ivao.aero
For more information click here.
18:00 - [SD] Sudan Online Day
Bring your wings to our [b]Online Day[/b] every Saturday from 18z-21z
For more information click here.
19:00 - Ecuador Online Day
Come and fly to/from/in Ecuador and enjoy the Online Day to discover the beautiful landscapes we have in our country. Mountains, Sea, Galapagos Islands and Amazon regions are waiting for you with ATC Service from 19z every Saturday.
Report to our Tour system and get your medal after 25 participations as ATC or Pilot in our country !
For more information click here.
20:00 - [XA] Miami Online Day
IVAO North America / MIAMI ARTCC is staffed for you Miami ARTCC ONLINE DAY every Saturday at 2000Z!!.


In order to obtain the XA Online Day badge you must control or fly in 25 sessions during the online days.
Members outside of the XA division must have GCA.
Each control or flying session will be reported in the MODA System under the XAONLINEDAY20 Tour.
For more information click here.