00:00 - [AR] ONLINE DAY
Every Saturday IVAO Argentina will hold an Online Day Event - We are waiting for you

Saturdays from 00:00z to 23:59z - Peak Hour: 18:00z to 21:00z
For more information click here.
12:00 - [HQ+PT+MultiDivisions] Destination Portugal v1.0
The Portuguese division is pleased to announce another great event. The Destination Portugal v1.0 is our latest event that will require a lot of presence from the IVAO community to fill the Portuguese airspace as much as possible!
For more information click here.
12:00 - [PL]POLAND ONLINE DAY 12-21Z
Come and fly to Poland! We are providing full ATC every saturday from 12z to 21z
For more information click here.
17:00 - [DZ] ALGERIA ONLINE DAY
WELCOME TO THE ALGERIAN AIRSPACE
IVAO Algeria Division presents an Online Day, every Saturday at 1700z - 2000z.
Full coverage of ATC with great service.
Come fly in the Algerian sky and discover the different airports!
The Algeria Division wish you a good flight !
For more information click here.
17:00 - [XG] One Runway OPS
XG division kindly invites you to our Event called "Single Runway Operations"!
This means instead of operating one runway for departures and one for arrivals, we will see departures and arrivals on a single runway. This also provides safety improvements, such as active runway crossings. When traffic is beyond our capacity, we for sure will open another runway to minimize delays on arrival and departure.
we believe you will get an unforgettable experience in our sky and we guarantee you fully staffed in OMDB to take advantage of the ATC. We really hope to see you there!
For more information click here.
18:00 - [EG] Egypt Online Day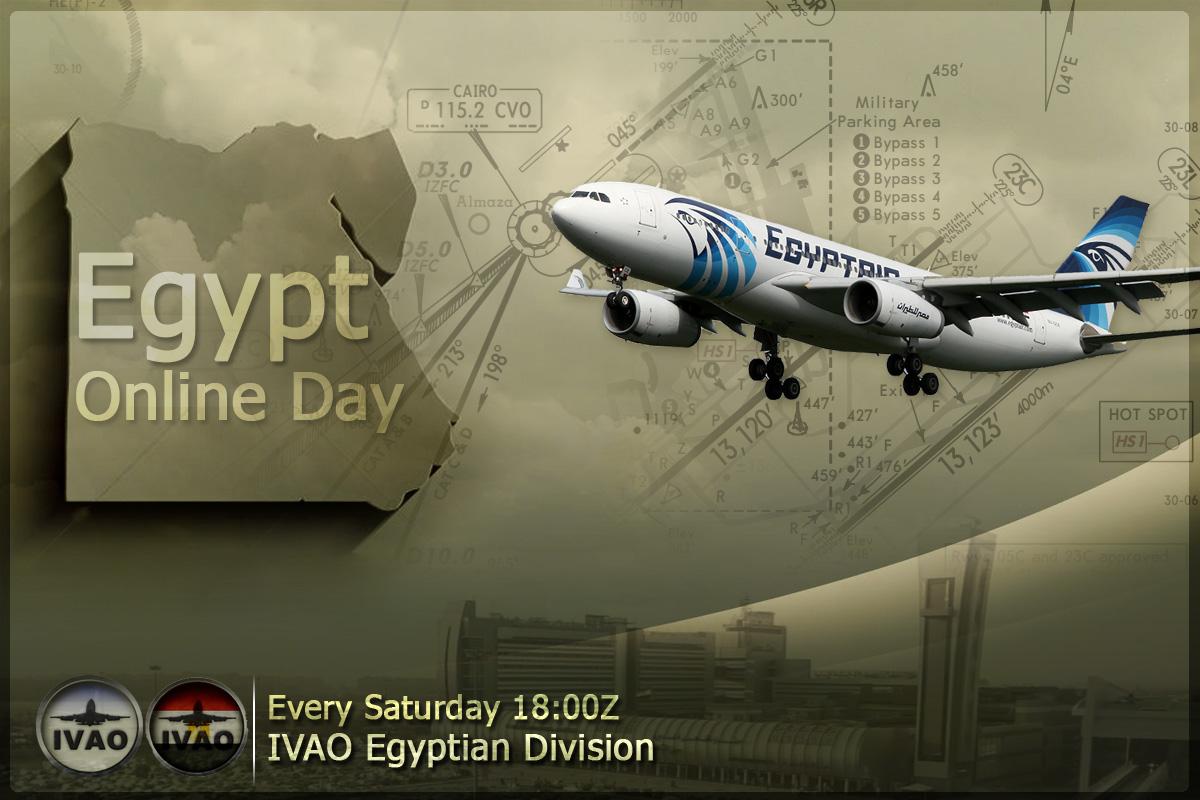 Egypt Online Day

Every Saturday IVAO Egypt will hold an Online Day Event, which will take place from 18z-21z. The event will consist of two or more aerodromes or TMAs offering FULL ATC for the duration of the event. Each Online Day will be in different locations, the locations will be chosen by members through voting through our EG Discord channel or through our EG Facebook page, the locations that receive the most votes will be those that will participate in the event.

Voting will start on Monday, and will end on the Thursday preceding the Saturday of the event.

If you have any questions, here are our email: eg-ec@ivao.aero
For more information click here.
19:00 - [VE] Venezuela Online Day
The Venezuela Division wants to invite you to participate in its weekly event "Online Day Venezuela." .
with full control in Venezuela.
We are waiting for you, we are counting on you!

For more information click here.