00:00 - [PE] Online Day
Hey!
Let's fly and enjoy our Online Day.
For more information click here.
03:00 - [UY] Uruguay Online Day, ALL DAY!!
Come fly and enjoy in our online day, every saturday all day long!!
(Peak hour 19z - 23z)
08:00 - [NL+MX+KLM-VA] KLM Boeing 747 Farewell Tour Opening Event
Welcome to the KLM Boeing 747 Farewell tour and event made in cooperation with KLM-VA and the IVAO Mexican Division. Unfortunately due to the worldwide Corona pandemic many airlines are retiring their older aircraft earlier than planned. Also KLM retires their workhorses ''the Boeing 747'' 1 year earlier than planned. The first Boeing 747 that joined the KLM fleet was in 1971 with the Boeing 747-200 series that was later converted to Boeing 747-300 which can be recognized by the longer upper deck. The now retiring Boeing 747-400 Joined KLM in 1989 and served for 31 years. Unfortunately after almost 50 years and multiple types in the fleet, the icon of the KLM is disappearing out of the skies so time to say farewell to this beautiful aircraft. Join us in the opening leg of the Farewell Tour
For more information click here.
14:00 - [UA+XR] Kharkiv - Niznij Novgorod Airbridge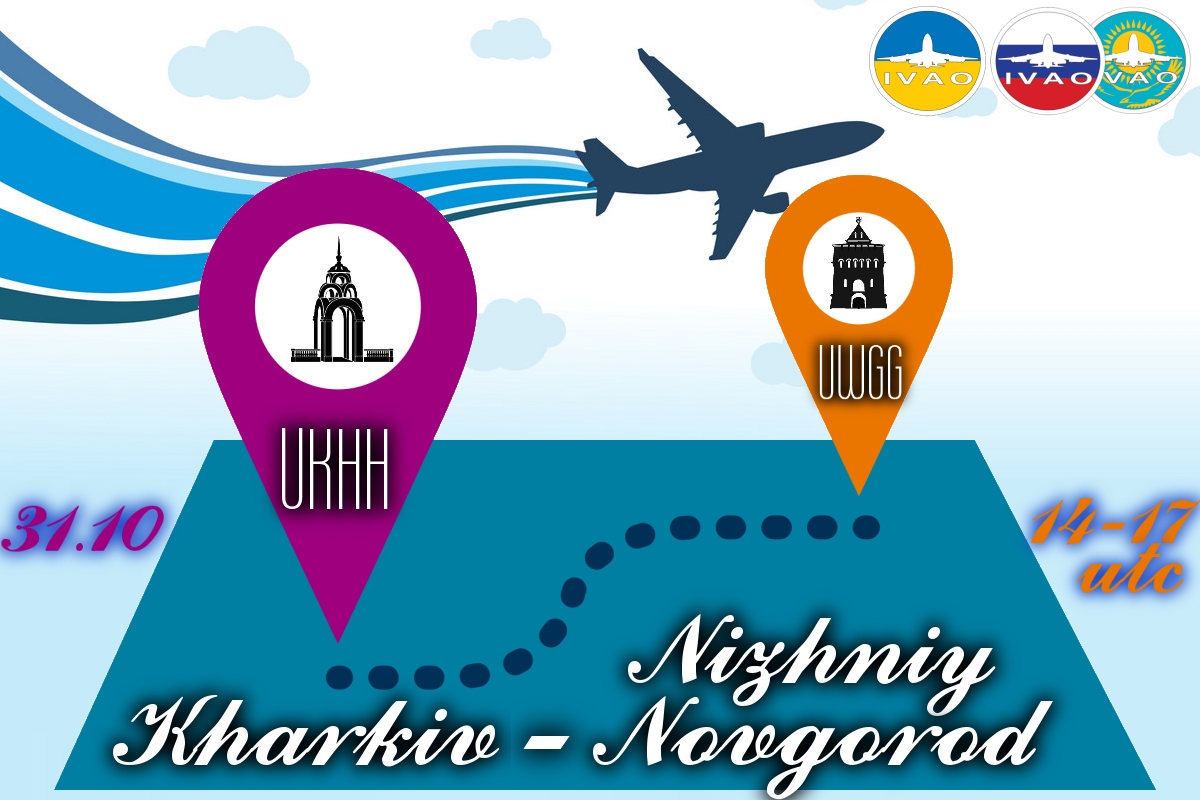 IVAO UA and XR are pleased to invite you to participate in Kharkiv - Niznij Novgorod Airbridget. Fly between Niznij Novgorod Airbridge (UWGG) and Kharkiv(UKHH) with our ATC's providing professional service throughout the route. We're waiting for you all!
For more information click here.
14:00 - [DE] BER opening - Berlin FlyIn/Out
The long waiting has an end!

After 14 years, 5.905.800.000€, many checks and signatures the time has come:
At the 31.10.2020 the new Airport Berlin Brandenburg-Schönefeld will open.
Of course we will celebrate this event even on IVAO. Therefore, we invite all interested pilots to the opening of the new airport "Berlin Brandenburg" (EDDB) on 31st October from14z until open end (minimum until 18z). The event will be a FlyIn and FlyOut.
For more information click here.
16:00 - [PT] Portugal Online Day
We are pleased to invite you to join us every Saturday, from 1600z to 2200z to participate in the Portuguese Division Online Days.
For more information click here.
16:00 - [HQ+SD+XG+SA+XM+TR+EG] Reviving The Nile
CALLING ALL AVIATORS! YOUR FELLOW NEIGHBOURS NEED YOU! Caught your attention? Due to unforeseen circumstances in September 2020, continuous rainfall in Sudan caused a devastating flood across at least 16 Sudanese states with the Blue Nile reaching water levels not seen for nearly a century. It ranks among the most severe floods recorded in the region. A state of emergency was declared and teams have worked have to prevent damage to the threatened areas. The flood affected more than 3,000,000 people, destroyed more than 100,000 homes, and unfortunately 102 people have passed away to date.

The Sudan Division (SD) invites you to participate in this unique event, Reviving The Nile. The event will take place on 31st October 2020. The idea is to simulate aid flights into Sudan's capital, Khartoum, to assist with this natural disaster. All flights are welcome, however preferably Cargo & Heavy aircraft for the realism. We have liaised with 5 fellow divisions that are participating and providing their services to us. Come and depart from one of these 5 airports and assist with providing aid for Sudan!

Go ahead and prepare your wings and make sure your aircraft are well maintained to withstand the hot weather of the equator! Make sure to fill up that cargo manifest and leave no gaps in your aircraft! Enjoy full ATC coverage from the ground upwards.

This event is eligible for the IVAO Events Support Award!
For more information click here.
17:00 - [PL] Poland Online Evening
New series of Poland Online Evenings!
Fly or control throughout Polish skies to have magnificent fun and to collect a Division Online Day Award.
Forward to hearing you on the frequency!
For more information click here.
18:00 - [EG] Egypt Online Day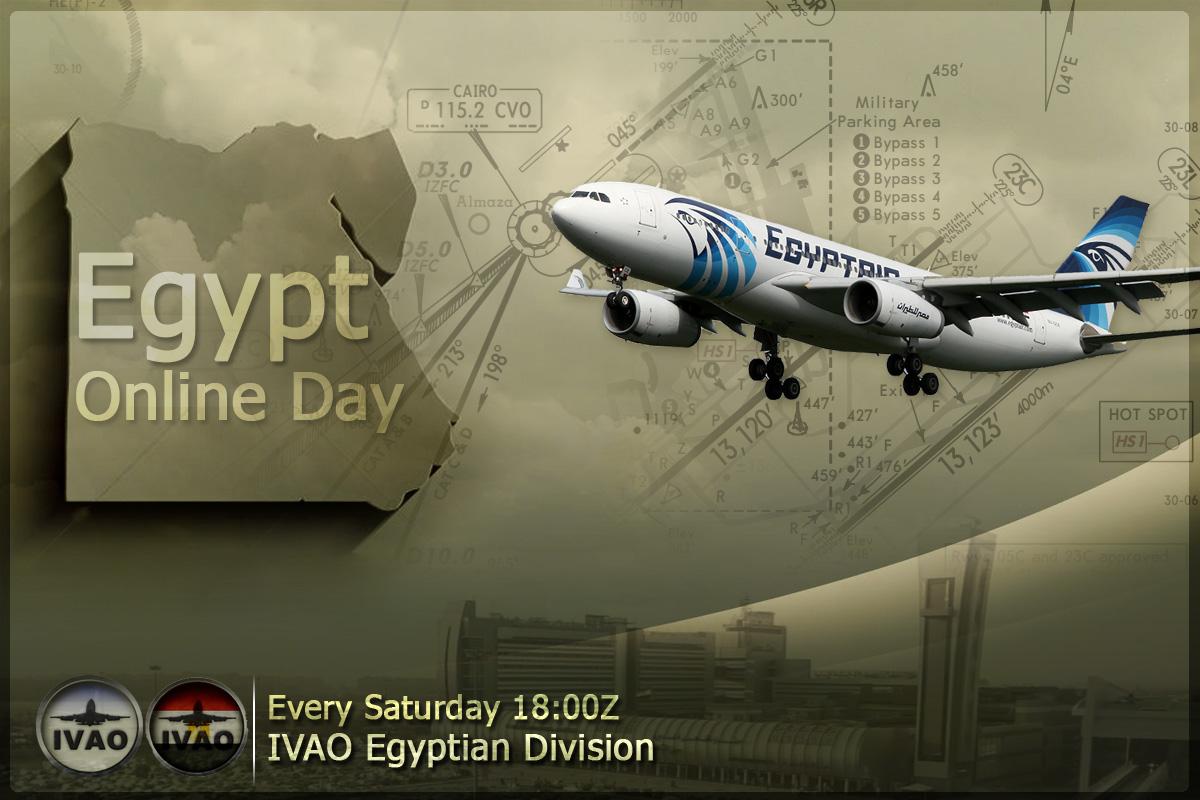 Egypt Online Day

Every Saturday IVAO Egypt will hold an Online Day Event, which will take place from 18z-21z. The event will consist of two or more aerodromes or TMAs offering FULL ATC for the duration of the event. Each Online Day will be in different locations, the locations will be chosen by members through voting through our EG Discord channel or through our EG Facebook page, the locations that receive the most votes will be those that will participate in the event.

Voting will start on Monday, and will end on the Thursday preceding the Saturday of the event.

If you have any questions, here are our email: eg-ec@ivao.aero
For more information click here.
18:00 - [SD] Sudan Online Day
Bring your wings to our [b]Online Day[/b] every Saturday from 18z-21z
For more information click here.
19:00 - [BR] Online Day
Todos os Sábados (com excessão aqueles que já tenham outros eventos) a IVAO Brasil fará um Evento Online Day, que acontecerá das 19z-22z. O evento consistirá de dois ou mais aeródromos ou TMAs oferecendo FULL ATC durante toda a duração do evento. Cada Online Day será em localidades diferentes, as localidades serão escolhidas pelos membros por meio de votação pelos nossos canais do discord ou pela nossa pagina do facebook, as localidades que receberem a maior quantidade de votos serão as que partiparão do evento.

A votação se iniciará na segunda feira, e se encerrará na quinta feira precedente ao sábado do evento.
For more information click here.
19:00 - Ecuador Online Day
Come and fly to/from/in Ecuador and enjoy the Online Day to discover the beautiful landscapes we have in our country. Mountains, Sea, Galapagos Islands and Amazon regions are waiting for you with ATC Service from 19z every Saturday.
Report to our Tour system and get your medal after 25 participations as ATC or Pilot in our country !
For more information click here.