08:00 - [XB] PDE - BeLux at Skywonder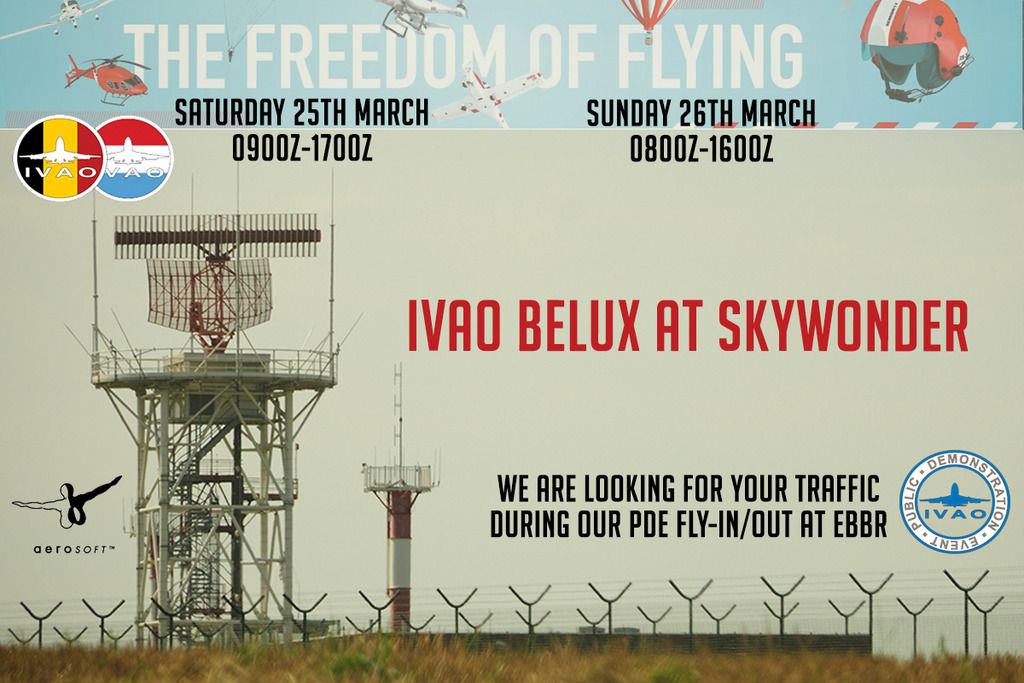 IVAO BeLux is kicking of the new PDE season with a participation at Skywonder, a free time aviation fair for all enthousiastics of aviation from drones over PPL training to simulator aviation.
For more information click here.
14:00 - [IT] Pescara Procedural Approach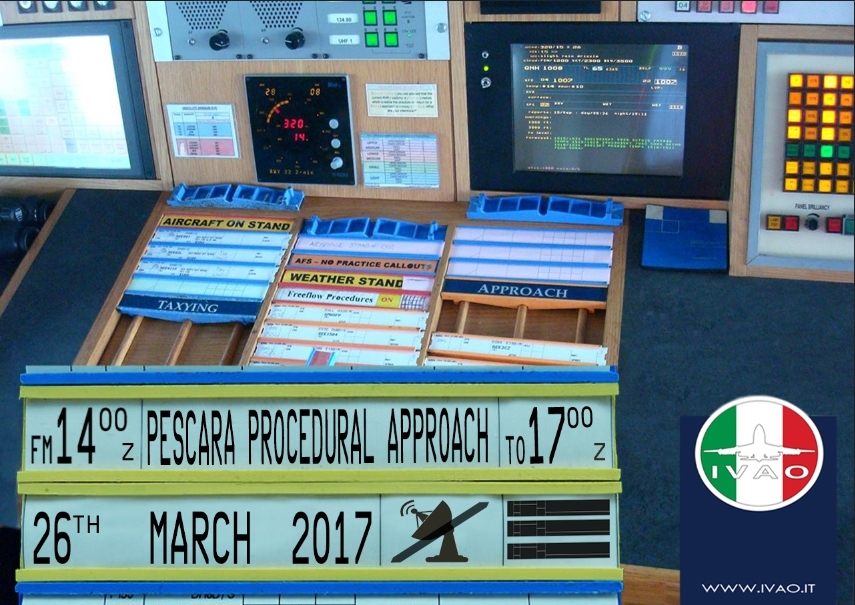 Sunday the 26th of March 2017 from 14z to 17z you're all invited to fly from and to Pescara LIBP, departing and arriving from a lot of airports available!
No Radar this time for our ATCs that will be involved in one of the most difficult type of control, the procedural approach.
So, let's revise the approach procedures, holding, and phraseology.
Fun and "separation" will be guaranteed!
We're waiting for you!
For more information click here.
17:00 - [HR] Croatia busy Sundays
Join us on Croatia busy Sundays. We will try to provide you as much ATC as you can get. All those are good ATCs adn will help you with anything you need to enjoy flying our FIR. If no one will be online, dont blame us, no hard feelings, we just dont have time maybe, or all of busy somehow. But we will try ;)

Enjoy our Airports, Seaports and airfields and our virtual sky
For more information click here.
18:00 - [XA+DO] Caribbean Crossfire: Miami <-> Punta Cana
The IVAO-DO and IVAO-XA invites you to participate in the "Air Bridge KMIA-MDPC" event.

Date/Hour:
Sunday 03/26/2017 18:00z-22:00z

About the event:
KMIA (Miami Intl) and MDPC (Punta Cana) will be fully staffed; You can choose the direction.
For more information click here.
18:00 - [XN] Nordic Region Online Day
Each Sunday the Nordic Region will provide the possibility to have ATC coverage for a stunning area from Helsinki to Reykjavik, from the North Cape to Copenhagen. Bring your wings and enjoy this great ATC coverage.

For more information click here.
19:00 - [CL] Chile Online Day
Se trata de un evento todos los Domingos desde las 19:00z, en el cual puedes controlar en la posición que prefieras, y volar en la aeronave que prefieras.
For more information click here.
22:00 - [CL] Visitando el desierto de Atacama
Ivao Chile te invita a es te puente aereo con full pilotos y ATC te esperamos
For more information click here.