12:00 - [HQ+XR] Moscow RFE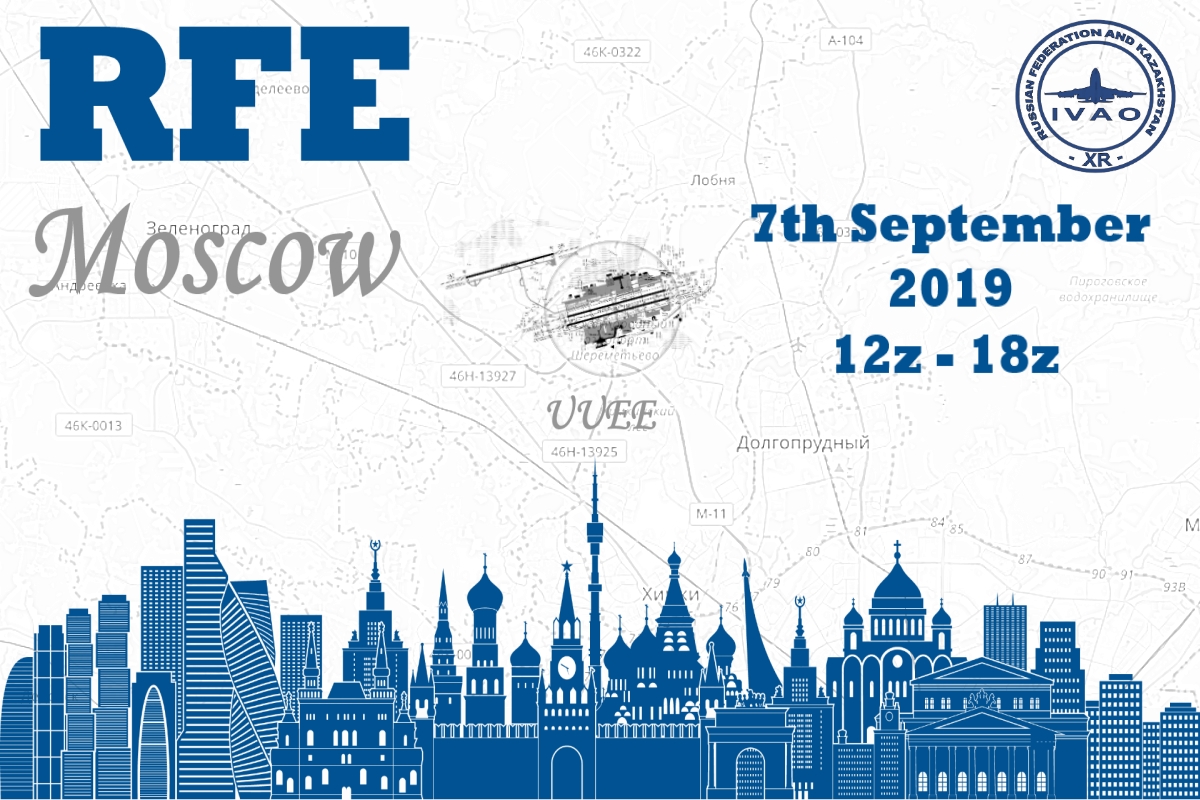 An annual and biggest event of Russian Federation and Kazakhstan MCD dedicated to the 872nd anniversary of Moscow city.

We make this annual event for a numerous number of years and we make sure that we improve it every year. Modernization and changes in the SIDs and STARs, a close separation between aircrafts makes it extremely interesting both for pilots and ATC to participate.

Don't miss this opportunity to simulate real-life pilots` job. Be there in advance, plan everything properly and in time, talk to many different ATCs, fly and work in the busy environment and be always ready to react! This and many other you can only feel during an RFE so book your flight today!

https://rfe.xr.ivao.aero/booking

On the 7th of September, 6 hours of fully staffed Moscow biggest airport available to fly in out according to the real-life schedule. There are 350 flights for you to book, so make sure you take as many as possible to fulfill the Moscow FIR.
For more information click here.
16:00 - [MA] Morocco Online Day
You are welcome every saturdays, at the most important Morocco airports, like Casablanca, Marakesh, Fes, etc.
Make sure your flight is arriving or departing from Morocco.

To obtain the Morocco Online day badge you must participate in 10 sessions of control during our Romania Online Evening.

[img]https://www.ivao.aero/data/images/awardsdiv/OD.gif[/img]

Members out of Morocco division must have the GCA.

Fun are guaranteed.
For more information click here.
18:00 - Ouverture Saison 2019/2020
On Saturday, 07th September 2019, from 18z to 22z, Morocco Division, will introduce a exectionnel event for Ouverture Saison 2019/2020 of MA division. During this event Marrakech-Menara (GMMX) airport will are open during 4 hours for in order to honor this exectionnaly day.

For more information click here.
18:00 - [DZ]ALGERIA ONLINE DAY
You are welcome every Saturday from 1800z to 2100z, at the most important Algeria airports, like Algiers, Oran, Constantine, etc.
Make sure your flight is arriving or departing from Algeria (DAAA FIR).

To obtain the Algerian Online day Award you must participate in 25 sessions of ATC or Pilot
For more information click here.
19:00 - [CO] CARIBBEAN ONLINE DAY
IVAO COLOMBIA, VENENZUELA, DOMINICAN REPUBLIC and Netherlands Antilles Invites you to participate in the evenet ONLINE DAY.An event in which you can enjoy flying or controlled in a afternoon with the majority of dependencies of our four divisions, achieving a higher level of immersion in the operations that are carried out in real life.
For more information click here.
22:00 - [SO event] [BR] Brazilian Independence Day
Special Operations event: Brazil was founded in 1500 by Pedro Alvares Cabral and became a region that once belonged to Portugal Imperium. The Independence Day of Brazil has been celebrated on 7th September since 1822, when the Brazil became independent to Portugal, with Dom Pedro I as the first King of Brazil. Every city in Brazil celebrate with a military parade where soldiers of Army, Navy, Air Force, Police and Fire Service parade on the Main Streets and Avenues. Each year the Brazilian Air Force make low passes over Brasília for celebrate this day, now you can take part!

Detailed Event Master plan is provided on the HQ-SOD website.
Participants' registration is required at HQ-SOD website.
For more information click here.