00:00 - [EVERY SUNDAY | 00Z - 03Z] UY ONLINE DAY
Welcome to Online Day of the Uruguayan division of IVAO!
We are waiting for you throughout Uruguay with a great ATC service
For more information click here.
10:00 - Basel-Mulhouse RFE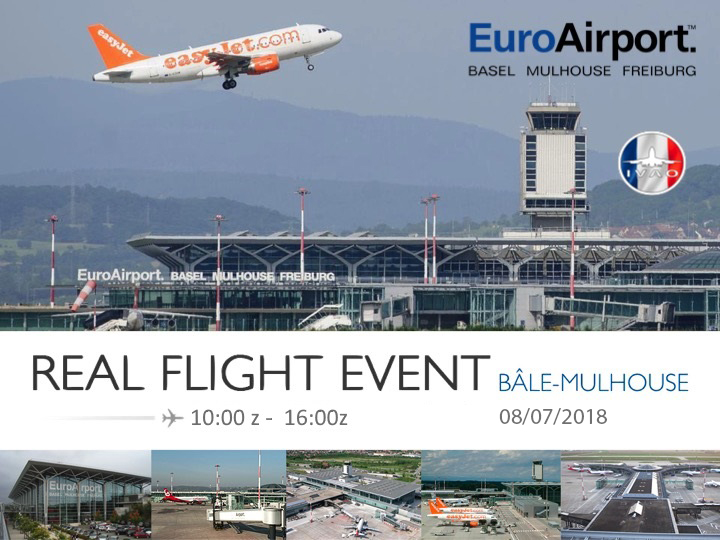 Welcome to Basel-Mulhouse EuroAiport RFE (LFSB).

France Division is excited to invite you to this event simulating a bright and busy summer afternoon at the EuroAirport.

Enjoy beautiful landscapes between German/French and Swiss border or perform full rotations between several greatest Europe airports.

Choose your favorites flights: commercial, private, cargo or general aviation.

Fuel up, and respect your flight timeframe not to delay other aircrafts and keep it as real as possible !
For more information click here.
13:00 - [17ID080718A] - Amboina Deadline
IVAO Indonesia SpecOps Department invite you to join the Special Opeartions Event CAT-A which will be held on 8 July 2018 from 13.00z until 17.00z. All the information is already written on the Briefing Document.

The Situation is...
The cruise ship PACIFIC BLISS is about to complete another 14-day cruise of eastern Indonesia when all contact is lost. After not hearing from the ship for 24 hours, a search and rescue effort was launched, and the ship was found stuck on a coral reef at Manipa Island, near Ambon with no power.

A barge has been dispatched to the area to assist in repairs and power has since been restored to the ship but efforts to free it from the coral reef has so far failed.

With the cruise's end-date coming soon, it has been determined that the ship cannot bring its passengers to its end port of Benoa in Bali, in time. The ship captain and the cruise line has decided to offload all the passengers and fly them from Ambon Patimurra Airport (AMQ/WAPP) to Denpasar Ngurah Rai Airport (DPS/WADD).

However, with 3000 passengers and bags, the operation is straining local shipping operations as well as hotels in Ambon and the operations cannot be completed in time. Fearing expensive lawsuits and fines, the cruise line company asked for help to bring all passengers and their baggage to DPS before 8 July 17.00z, so that the passengers can catch their long-haul charter flights home.

All the helicopters involved in the search and rescue as well as those based nearby has been mobilized to assist. Military airlift aircraft and also civilian airliners has been drafted to join in the airlift.
For more information click here.
17:00 - [ES+PT] Bilbao - Madeira
IVAO Spain in collaboration with IVAO Portugal, have the pleasure to present the next event, which will be held on the 8th of July between 17z and 21z.
Madeira, is an island of the beautiful Portuguese archipelago, in the Atlantic Ocean, and of extreme beauty, where we will arrive.

For more information click here.
17:00 - [XN] Nordic Region Online Evening
Each week the Nordic Region will provide the possibility to have ATC coverage for a stunning area from Helsinki to Reykjavik, from the North Cape to Copenhagen.
Bring your wings and enjoy this great ATC coverage.



18:00 - [HR] Croatia Online Evening
Croatia Online Evening is organised every Sunday from 18:00z. Come and join us, expect extended ATC service and enjoy the magnificent scenery of our country.

We're looking forward to seeing you!
For more information click here.
19:00 - [VE] VALENCIA OVERLOAD!
IVAO Venezuela is glad to invite you to our next event, VALENCIA OVERLOAD!, the idead is to enjoy an afternoon full of traffic and push the ATC to their limits!

For more information click here.
19:00 - [US] Washington ARTCC Online Day
Fly in our nation's capital or control some great airports in the Potomac Airspace and around the Washington ARTCC for our online day from 1900z to 2100z! All participants eligible for one point towards their online day award!
For more information click here.
19:00 - [CL] Chile Online Day
Chile Online Day takes place every Sunday from 19:00z. Come and join us, full ATC coverage service and a escalated rate of pilots in the skies.

We hope see you there.

For more information click here.