10:00 - [FR] 24h ATC Service at Bordeaux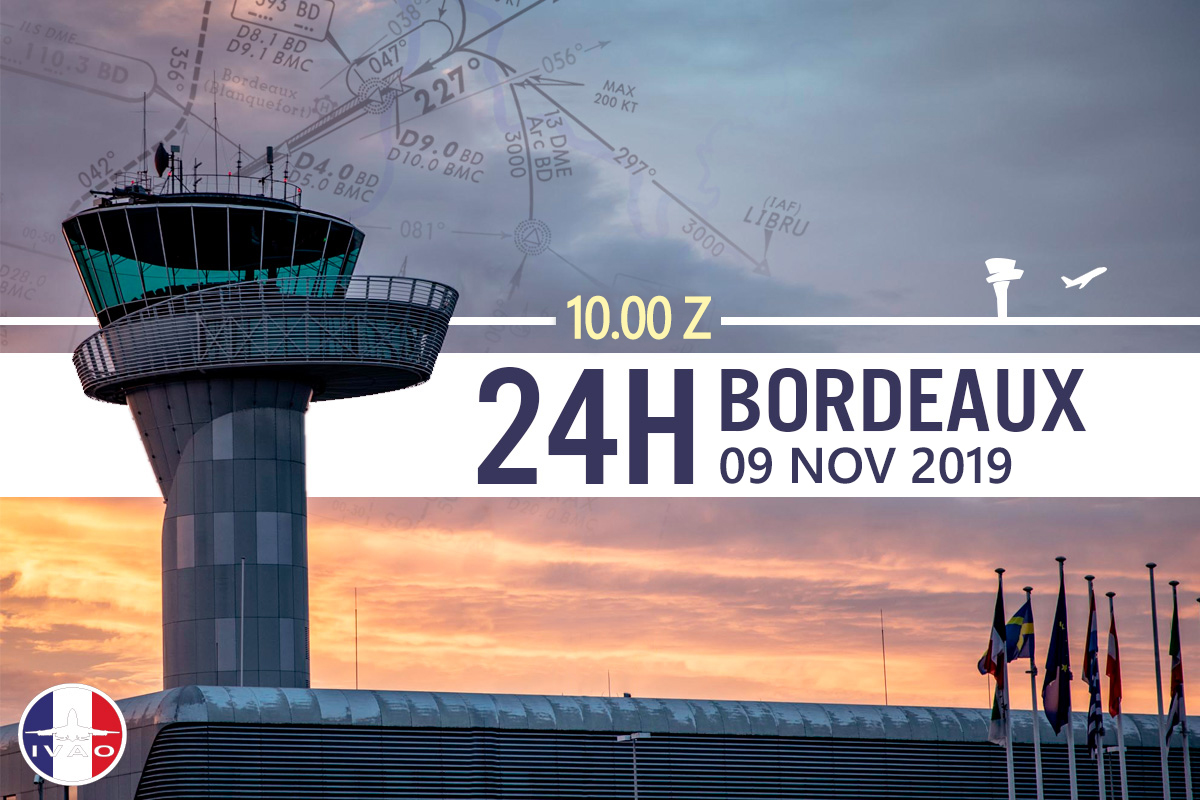 It is back! The one that makes you love coffee, the one that makes you enjoy Night VFR, the one that keeps your eyes on the radar, the one you were waiting for: 24h ATC service at Bordeaux!

From Saturday 9th of November at 10:00UTC, to Sunday 10th of November, 10:00UTC fly from/to Bordeaux and enjoy 24h of full service.
For more information click here.
12:00 - [SO EVENT] [XR] Operation Hurricane
Special Operations Event: The Special Operations Department of the Russian Federation and Kazakhstan Division invites members to its fourth International Special Operations Event, Operation Hurricane, on the 9th November 2019 from 12:00 until 14:00 UTC.

The XR Special Operations Command Centre has not received a scheduled update report from one of its military aerodromes located in the UAR24 restricted area and have tried to establish communications with it, but sadly there is no response. Images from ground and air reconnaissance sorties show that 10 (ten) foreign vehicles have infiltrated the boundary of the aerodrome and presumably taken control.

Operation Hurricane has been developed to free the military aerodrome and re- establish communications with the XR Special Operations Command Post.
For more information click here.
16:00 - [MA] Morocco Online Day
You are welcome every saturdays, at the most important Morocco airports, like Casablanca, Marakesh, Fes, etc.
Make sure your flight is arriving or departing from Morocco.

To obtain the Morocco Online day badge you must participate in 10 sessions of control during our Romania Online Evening.

[img]https://www.ivao.aero/data/images/awardsdiv/OD.gif[/img]

Members out of Morocco division must have the GCA.

Fun are guaranteed.
For more information click here.
17:00 - [AO] Angola Online Day
Each saturday Angola division is inviting you to the Angola Online Day.
For more information click here.
18:00 - [DZ]ALGERIA ONLINE DAY
You are welcome every Saturday from 1800z to 2100z, at the most important Algeria airports, like Algiers, Oran, Constantine, etc.
Make sure your flight is arriving or departing from Algeria (DAAA FIR).

To obtain the Algerian Online day Award you must participate in 25 sessions of ATC or Pilot
For more information click here.
19:00 - [AN+CO+DO+VE] CARIBBEAN ONLINE DAY.
IVAO COLOMBIA, VENENZUELA, DOMINICAN REPUBLIC and Netherlands Antilles Invites you to participate in the evenet ONLINE DAY.An event in which you can enjoy flying or controlled in a afternoon with the majority of dependencies of our four divisions, achieving a higher level of immersion in the operations that are carried out in real life.
For more information click here.
22:00 - [HQ+XU+FR+XA+NL] Atlantic Crossing Eastbound
Pilots who depart from any of the North American airports, will route via Shanwick/Gandar for the Atlantic crossing. The route will be fully staffed for the entire crossing to ensure realism for all involved! During the course of the event, the majority of participating pilots from each of the divisions should merge to cross the Atlantic and arrive into the selected arrival airports. We would encourage pilots to fly in groups with their division to ensure the event is as fun as possible for all pilots and gives everybody a mini-event within the main huge Atlantic Crossing event.
For more information click here.