00:00 - [CL] ONLINE DAY
This is an event every Sunday from 00:00z to 24:00z, in which you can control in the position you prefer, and fly in the aircraft of your choice.
For more information click here.
00:00 - [PE] Online Day
Hey!
Let's fly in our Online Day.
For more information click here.
11:00 - [GE] Georgia Online Day
Every Sunday: Georgia Online Day from 1100utc - 1700utc (1500 - 2100 LT)
For more information click here.
13:00 - [XN] WEEKLY NORTHERN LIGHTS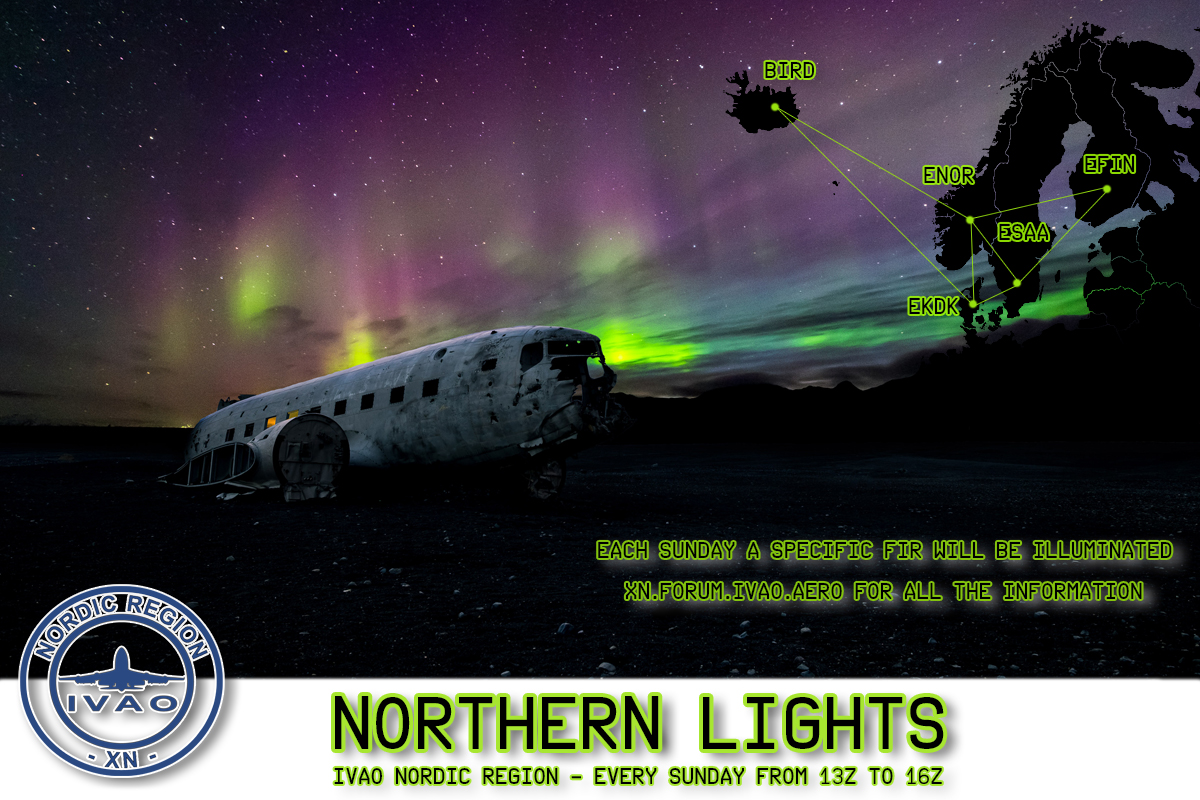 Nordic Region is proud to officially re-introduce the weekly tour called "Northern Lights" . This revisited day/tours aims to bring life to our online day by bringing the best of all parts of IVAO. A tour for pilots to fly, aircrafts for ATC to control and a badge for everyone to hunt. In this way we encourage people to control and fly at the same area at the same time and hopefully this could bring even more people to join us. It will always be on Sundays from 13z to 16z. The award will be given to anyone who participates at 25 online days as Pilot or ATC. Reference post (both for ATCs and Pilots) will be published one week in advance indicating the FIR of our division which will be illuminated!
For more information click here.
13:00 - [TN] Ala Memorial Event
On July 14th, 2013 our friend Ala Deddech 252049 left us following a terrible accident. He was hit by a service vehicle at Tunis-Carthage airport, where he was on duty as a Ramp Agent.
On that same date, he made his last flight on IVAO.

The Tunisian Division would like to invite you on the 12th of July 2020 between 13z-15z to commemorate our dear friend Ala. Fly into Tunis-Carthage Airport DTTA, a Full ATC service will be available.
For more information click here.
15:00 - [GR + DE] LGTS - EDDF Airbridge
We kindly invite you to join our Frankfurt - Thessaloniki both-way Airbridge event, taking place on 12th July 2020 between 15z and 19z.
For more information click here.
16:00 - Swiss Sunday
After the typical hourlong family dinner, the pile of homework or the hours of doing nothing, come fill up the swiss skies! A blast of fresh air before diving back into the week.

Bring over your wings to Switzerland and meet our beautiful airports. Come on to do some IFR between our main airports or take your VFR certified plane out of your hangar!
For more information click here.
17:00 - [FR+PT] Porto - Strasbourg Cargo Airbridge
More fancy with Porto or white wine from Alsace, with unpronounceable name? Make your choice and refuel your aircraft! On the 28th of June the Portugal and France divisions are organizing an event that will connect the airports of Oporto (LPPR) and Strasbourg (LFST) in both directions. Fill as much bottles as you can fit and take-off!
For more information click here.
17:00 - [AO] Angola Online Day
Every Sunday IVAO Angola is having its weekly Online day. The goal of this day is to attract as much traffic as possible to one or more focus airports situated in Angola, in order to give the participating pilots and controllers the possibility to explore the different commercial airports in the nearby. We look forward to seeing you there!

To obtain the Angola Online day badge you must participate in 25 sessions of control and Pilot during the Event.

All Members out of Angola division must have the GCA.

Fun are guaranteed.
For more information click here.
18:00 - [12 JUL | 18z - 23z] [BR] RFE RIO
We are happy to announce our next RFE, or better aRFE (Almost Real Flight Event). This time including two of the airports in Rio you are able to book from hundreds of flights. Note that due to the current situation, we had to use a mix of scheduled flights from earlier in the year and some current flights, also some of the flights had their times changed to better fit in the timeline of the event.
For more information click here.