00:00 - [TH] Thailand Online Day
We are very welcome all traffic to our online day on every Friday 13:00-16:00Z, and don't forget to report your flight at MODA system. Achieve 10 times and get Division Online Day Award.
For more information click here.
00:00 - [NL] The Netherlands Online Evening
Visit our online evening as pilot on one or more of our regional airports or login as air traffic controller on EHGG, EHBK, EHEH and EHRD and get a point for the Division online Day Award
For more information click here.
12:00 - [ID] Indonesia Online Day!
VAO Indonesia Online Day every Friday start from 12z - 16z
report your online activity as ATC/Pilot in our MODA.

Join Us!
For more information click here.
19:00 - [HR] Bad weather FlyIN
For the end of the year we have chosen an event in which the airport will not be known more than 24 hours prior to the event.
This time we will choose an airport that will have the worst weather situation between 19z and 21z on December 15.
You can expect reduced visibility, strong winds, heavy precipitation (rain or even snow).
For more information click here.
19:00 - [DZ] Algerian Online Day

RUSH HOUR IN ALGERIAN SKY.

IVAO Algerian Division presents an Online Day every Friday at 1900z.
Great coverage of ATC with great service.


DZ Division wish you good flight !


All charts are available at: Algeria Charts

Come and fly in Algeria !
For more information click here.
21:00 - [XO] Capital Connect - YMML Melbourne/YSSY Sydney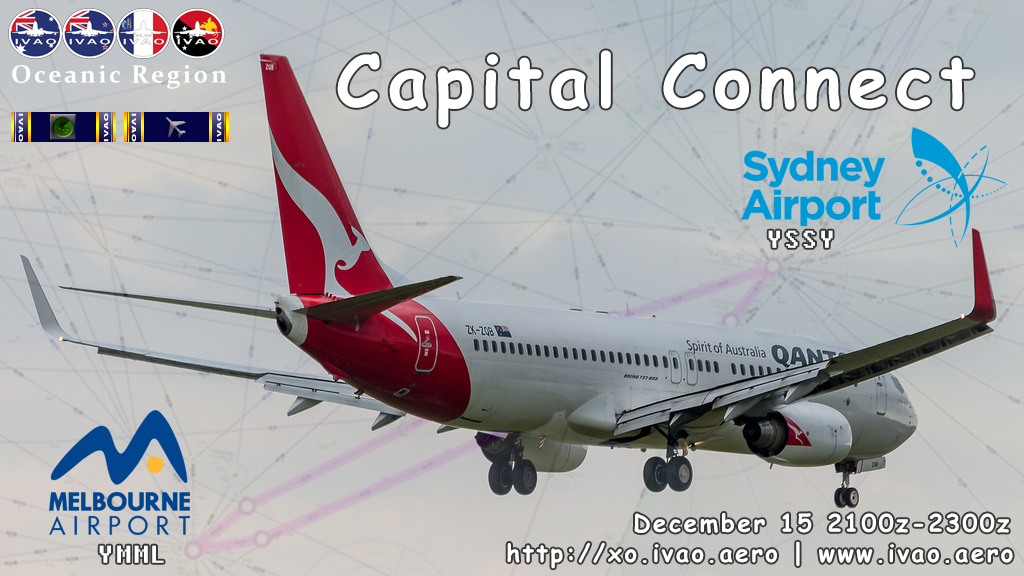 Capital Connect is back! The Oceanic Region would like to invite all Pilots Down under for our event, Capital Connect. Capital connect puts a focus on two Capital Cities of Australia. This puts a prime focus on the YMML Melbourne to YSSY Sydney route.

Capital Connect will guarantee two full hours of local ATC coverage from YSSY Sydney right through to YMML Melbourne giving International Pilots a great opportunity to experience flying in Australia with full ATC Coverage for the duration of the flight.

Pilots can fly in either direction, depart YSSY Sydney and fly to YMML Melbourne OR depart YMML Melbourne and fly to YSSY Sydney.

We invite you to join us down under!
For more information click here.