00:00 - [CL] ONLINE DAY
This is an event every Sunday from 00:00z to 24:00z, in which you can control in the position you prefer, and fly in the aircraft of your choice.
For more information click here.
00:00 - [PE] Online Day
Hey!
Let's fly in our Online Day.
For more information click here.
11:00 - [GE] Georgia Online Day
Every Sunday: Georgia Online Day from 1100utc - 1700utc (1500 - 2100 LT)
For more information click here.
16:00 - [ES+DZ] ALGIERS - BARCELONA AIRBRIDGE
IVAO Algeria and IVAO Spain will start the activity of the year 2020 by organizing an Air Bridge between Algiers and Barcelona on
Sunday 19 January 2020.


For more information click here.
17:00 - [SK] SQF5605 Memorial Flight
Dear pilots, join us during our annual event of SQF5605 Memorial Flight. This flight, which occured on 19th January 2006 was carrying Slovak peacekeepers from Kosovo, back home to Kosice. At around 18:38z the flight disappeared from the radars - the airplane crashed in snowy and forested terrain on Borso Hill with elevation of 700 meters, near the Hungarian village of Hejce. Just 3 kilometers from Slovak border and 20 kilometers from the destination. With 43 people on board, there was only one survivor. The crash still remains as the deadliest in Slovak history. Come and fly from Pristina to Kosice to remember this sad event, ATC services will be ready for you.
For more information click here.
17:00 - [AO] Angola Online Day
Every Sunday IVAO Angola is having its weekly Online day. The goal of this day is to attract as much traffic as possible to one or more focus airports situated in Angola, in order to give the participating pilots and controllers the possibility to explore the different commercial airports in the nearby. We look forward to seeing you there!

To obtain the Angola Online day badge you must participate in 25 sessions of control and Pilot during the Event.

All Members out of Angola division must have the GCA.

Fun are guaranteed.
For more information click here.
17:00 - [CH] Swiss Sunday
After the typical hourlong family dinner, the pile of homework or the hours of doing nothing, come fill up the swiss skies! A blast of fresh air before diving back into the week.

Bring over your wings to Switzerland and meet our beautiful airports. Come on to do some IFR between our main airports or take your VFR certified plane out of your hangar!

For more information click here.
18:00 - [XN] Fær Øer Focus Sunday - Vagar Fly-In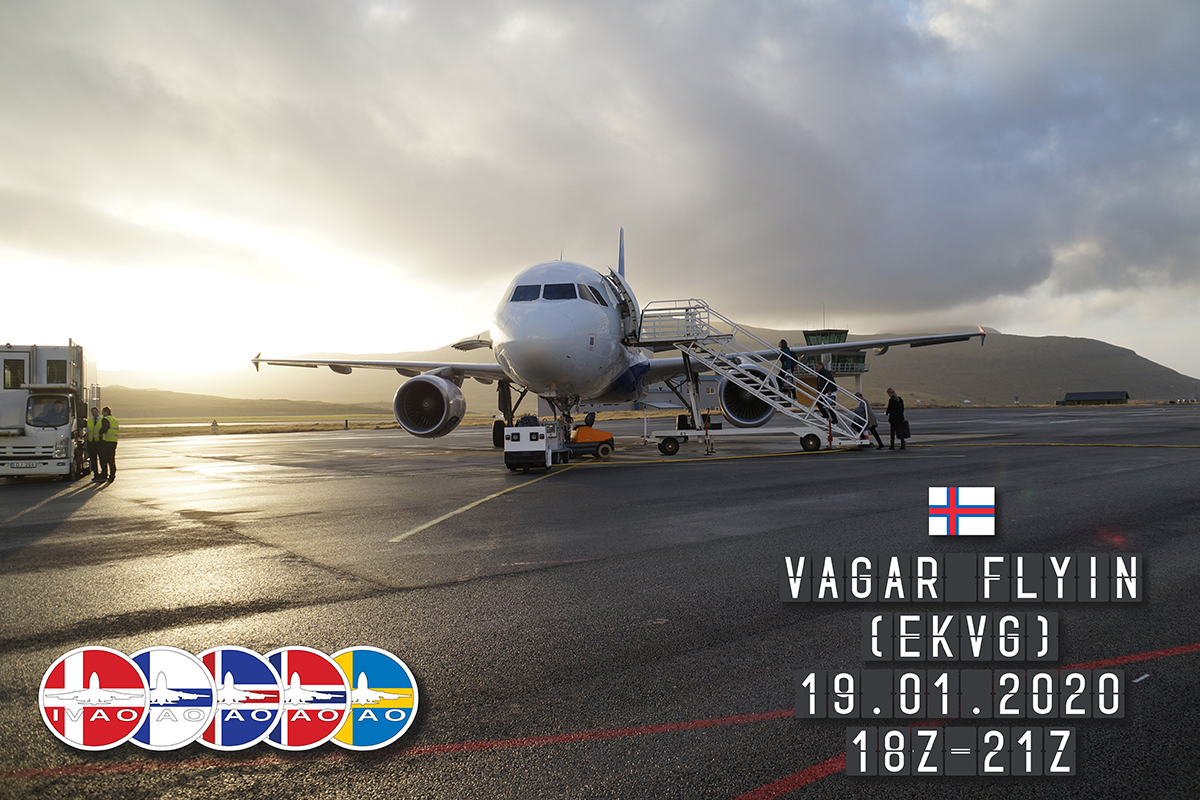 It's time for a bit of Vágar!

Vágar is one of the 18 Islands in the archipelagos of the Fær Øer Islands. The Fær Øer Islands are a North Atlantic archipelago located 320 kilometres north-northwest of Scotland, and about halfway between Norway and Iceland. They have been a self-governing part of the Kingdom of Denmark since 1948.

Vágar International Airport is the only airport serving the Fær Øer Islands. It has one runway (12/30) at 5900 ft, and it's famous for its challenging approach and angled runway. It's very common in fact, especially during winter, encounter some bad weather with strong crosswinds and rainfalls.

During this event, we would like to offer you a full "Fær Øer Experience" providing ATC Services from the some airports on the West Cost of Norway, to the Beautiful Vágar. However if you want to fly here from another airport, feel free to do: we'll be here starting from 18z till 21z.
For more information click here.
19:00 - [HR] Croatia Online Evening
Croatia Online Evening is organised every Sunday from 18:00z. Come and join us, expect extended ATC service and enjoy the magnificent scenery of our country.

We're looking forward to seeing you!
For more information click here.