00:00 - Senegalese Online DAY
We are very welcome all traffic to our online day on every Saturday 12:00-00:00Z, and don't forget to report your flight at MODA system. Achieve 10 times and get Division Online Day Award.
For more information click here.
00:00 - [RO] Romania Online Day
Romania division invite you to participate to "Romania Online Day" every Saturday.

Hope you will enjoy it as much as we do.
To obtain the ATC Romania Online Day badge you must participate in 25 sessions of control during our Romania Online Evening.
Members out of RO division must have the GCA.
Each control will be reported on MODA System accessing to ODATC18 Tour.
For more information click here.
00:00 - [EG] Egypt Online Day
Egyptian Online Day is Held Every Saturday at 18:00 Z . Bring Your Wings & Come To See The Nile River , New Suez Canal and the Great Pyramids and Fly Under our Great ATC .

Also Feel totally Free to Contact me if you need anything On ( eg-ec@ivao.aero )


For more information, please visit the Egyptian division Forum at: EG Forum
see you all there.
For more information click here.
00:00 - [ID] 24ID250818B CAT-B ~ Lap of Honour
BACKGROUND
This mission is the tread the path long time ago, 71 years ago by Indonesia Air Force. That's flight is the first flight to conduct air strike to ground and the first air attack in the darkness by Indonesia Air Force. So because of the courage of the fighter pilot days, which coincides on July 27, then set the day of Service of the air force to commemorate the courage of a pioneers of the air force at that time.

Thus IVAO Indonesia Special Ops trying to lift this tale as the operations that can be simulated on the IVAO Network based on regulation has been enacted on the IVAO about Special Operations activities. At this Operations, pilots will feel the atmosphere creates the battle brought it with vintage aircraft and routes being used at that time. The mission is simple and will give the impression of The Special Operations.
For more information click here.
08:00 - [XB+HQ] Aero-Kiewit PDE
The BeLux division will be present at the open house days of Aero-Kiewit, the oldest airfield of Belgium. The aim is to show the visitors what the IVAO network is all about. In order to do that, we need your help. Make sure to check out the link below if you are interested to participate!
For more information click here.
09:00 - [AT] PDE LOAN - Wr. Neustadt + LOWW Fly-In
In Cooperation with Flugplatz Wiener Neustadt, SFCA and IVAO Austria we are proud to invite you to our upcoming Public Demonstration Event. During the annual "Flugplatzfest Wiener Neustadt" IVAO Austria is going to represent IVAO with several Information desks and live ATC from LOAN. Join us on 25th August 2018 from 09-18Z at the Aerodone Wiener Neustadt (LOAN).
For more information click here.
10:00 - [XO] Queenstown Challenge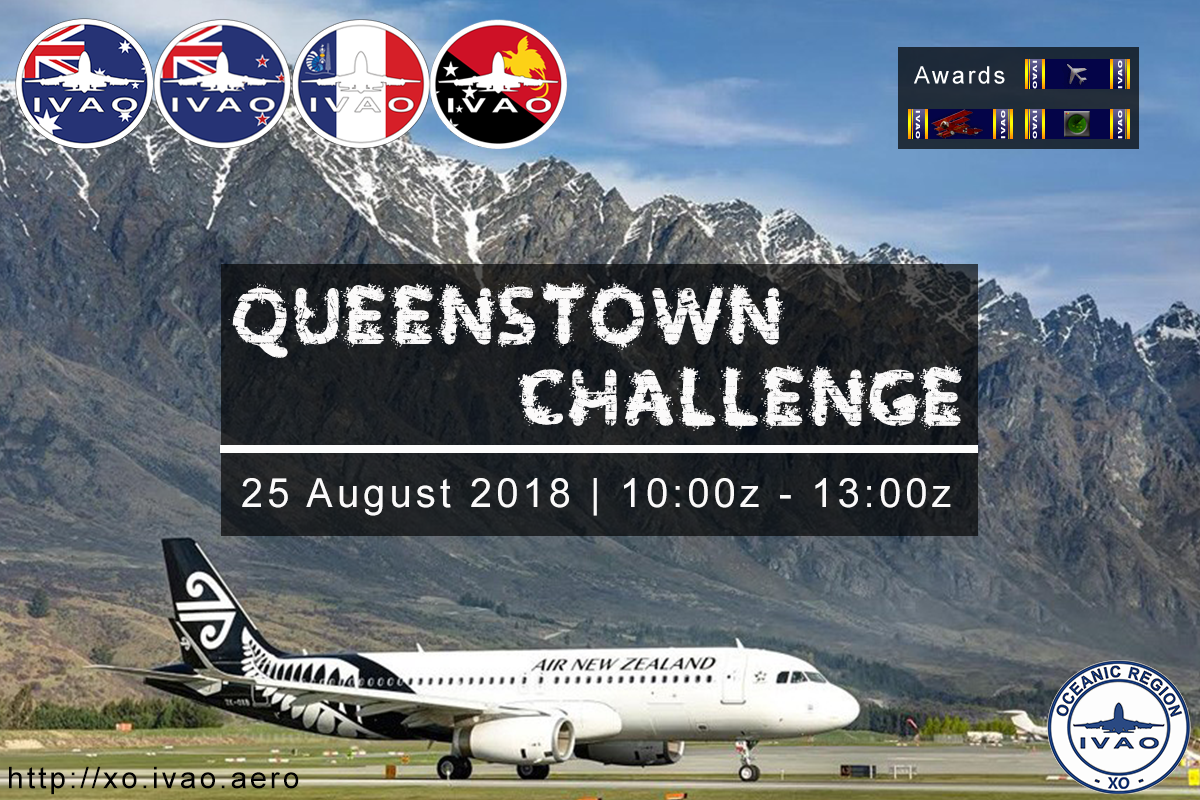 The Oceanic Region is proud to bring you the Queenstown Challenge!

Join us for a flight from NZWN Wellington to NZQN Queenstown and fly the challenging approach through the mountain surrounding terrain into NZQN Queenstown.

For this event Pilots can earn 1 point towards the Pilot Event Award when the flight is logged in MODA and the Aviation Celebration award when the flight is booked here on the dedicated event page and completed during the allocated event times. Controllers can earn 1 point towards the ATC Event Award when logging your times in MODA.

We hope you can join us for our Queenstown Challenge event!
For more information click here.
12:00 - [XN] Oslo Overload 2018
Saturday August 25th, 6 hours of ATC from Delivery to Center.
Oslo Gardermoen, Norway's biggest airport, destinations all over the world.
Come and join us, help us light up the skies of Norway as NEVER seen before!

For more information click here.
16:00 - [AO] Angola Online Day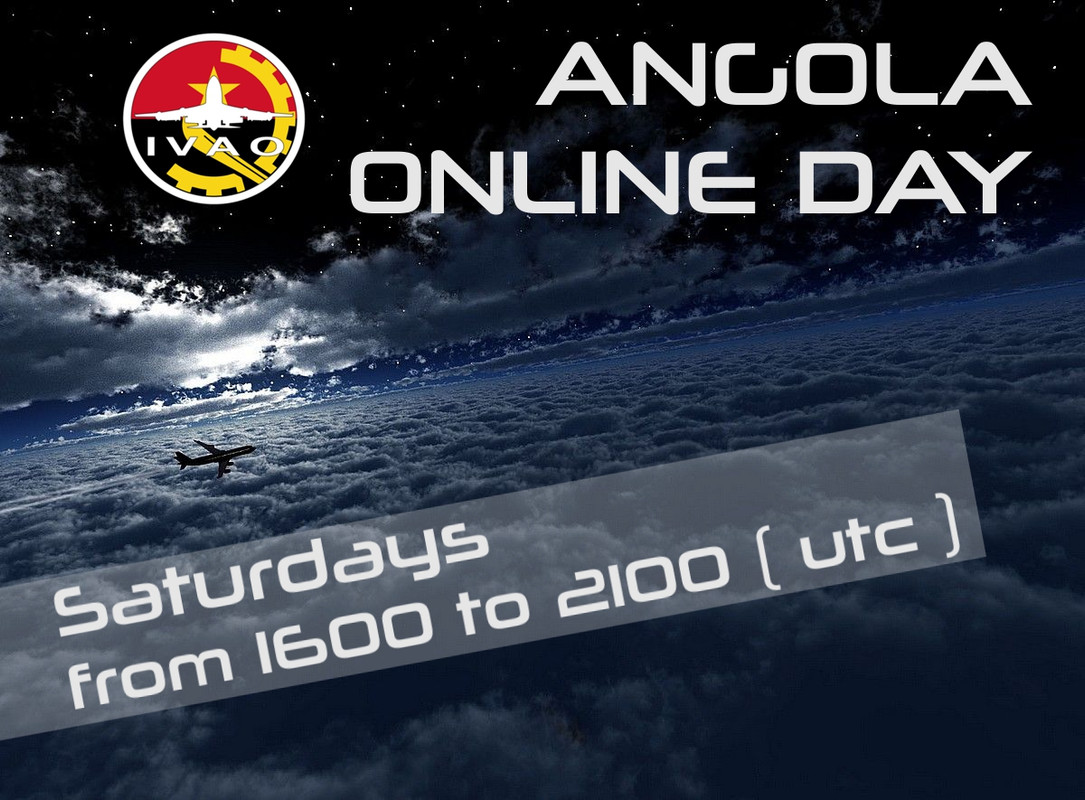 Angola division new online day 16 to 21UTC.
For more information click here.
16:00 - [MA] online day Morocco
WELCOME in online day in morocco airspace ;)
For more information click here.
17:00 - [HU] Hungarian Online Evening
Fly to the fully staffed Hungary FIR, every Saturday, and report your leg to the MODA system.
Hope to see you there.
For more information click here.
17:00 - [KW] Kuwait Division 12th Anniversary Free Flights
Join us in celebrating KW Division 12th Anniversary in this Free Flight event.

Aviation Celebration Tours and Events Award and Pilot Events Award point will be given to qualifying flights.

This Saturday, 25-AUG-2018 1700z-21z at OKBK!

For details, see the IVAO Events forum.

For more information click here.
20:00 - [UY+ES+VE+CL+CO+BR+AR] IVAO Uruguay - First anniversary
Do not miss this Saturday, August 25, our classic event that commemorates the independence of Uruguay, we celebrated our first anniversary as an active division, together with IVAO Argentina, IVAO Chile, IVAO Colombia, IVAO Brasil and unlike the previous years, our friends from IVAO España and IVAO Venezuela joined this event!!!

The event will consist of flying to and from the Carrasco International Airport SUMU/MVD starting at 20Z on Saturday, August 25, until 23Z that day, said culmination schedule may be extended, so cheer up and join us in this event, we will wait for you with Full ATC throughout the country!!!
For more information click here.