00:00 - CU ONLINE DAY 2020-2021
CU ONLINE DAY 2020-21
Every Saturday from 22z - 04z in winter and from 21z - 03z in summer, we celebrate our ONLINE DAY.
Pilots and ATC are welcome.
See you in "The largest of the Antilles"
For more information click here.
00:00 - [PT] Portuguese Online Day
Come and join us on the Portuguese Online Day every Saturday between 14z and 23z.
If you fly according to the rules and suggested route you can earn 1 point for the Division Online Day Award!
For more information click here.
00:00 - [AR] ONLINE DAY
Every Saturday IVAO Argentina will hold an Online Day Event - We are waiting for you

Saturdays from 00:00z to 23:59z - Peak Hour: 18:00z to 21:00z
For more information click here.
03:00 - [DE] Munich RFO
Also in 2021, even during the vacations, the Munich FIR invites you to this year's Munich RFO. On Saturday, 28.08.2021 from 0300Z to 2100Z you can expect complete ATC coverage at Munich Airport. During the day, up to 16 positions will be available to take you live from Freising, safely to and from Munich. To make the operation even more realistic, this year we offer the IFR clearance via Datalink not only via the well-known Datalink website of IVAO, but also support the PDC function via the Hoppie network, so that you can request the IFR clearance directly via the MCDU of your FSLab Airbus, for example. In addition, a custom voice ATIS is available so that you can listen to the ATIS over the radio - just like in reality.
For more information click here.
12:00 - [PL]POLAND ONLINE DAY 12-21Z
Come and fly to Poland! We are providing full ATC every saturday from 12z to 21z
For more information click here.
17:00 - [DZ] ALGERIA ONLINE DAY
WELCOME TO THE ALGERIAN AIRSPACE
IVAO Algeria Division presents an Online Day, every Saturday at 1700z - 2000z.
Full coverage of ATC with great service.
Come fly in the Algerian sky and discover the different airports!
The Algeria Division wish you a good flight !
For more information click here.
18:00 - [EG] Egypt Online Day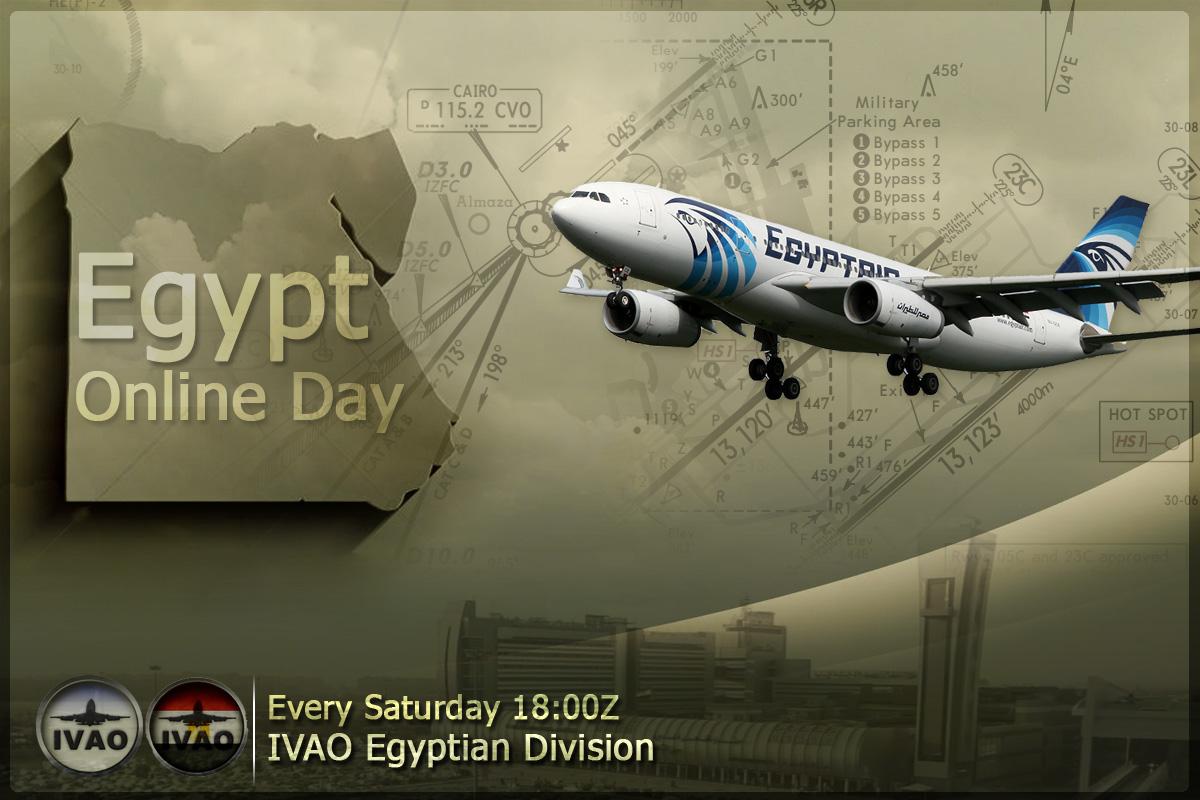 Egypt Online Day

Every Saturday IVAO Egypt will hold an Online Day Event, which will take place from 18z-21z. The event will consist of two or more aerodromes or TMAs offering FULL ATC for the duration of the event. Each Online Day will be in different locations, the locations will be chosen by members through voting through our EG Discord channel or through our EG Facebook page, the locations that receive the most votes will be those that will participate in the event.

Voting will start on Monday, and will end on the Thursday preceding the Saturday of the event.

If you have any questions, here are our email: eg-ec@ivao.aero
For more information click here.
19:00 - [VE] Venezuela Online Day
The Venezuela Division wants to invite you to participate in its weekly event "Online Day Venezuela." .
with full control in Venezuela.
We are waiting for you, we are counting on you!
For more information click here.
20:00 - [HQ+BO+EC+PE] Camino del Inca
The Inca Civilization was at the origin of the Inca empire which started its expansion for the Cuzco region and at its height went from Western Bolivia to the actual Ecuador in the 15th Century.
The Divisions of Bolivia, Ecuador and Peru are very pleased to invite you to join them on 28th August 2021 to participate in the "Ruta de los Incas"
For more information click here.